Connecting the dots…breast cancer and everyday chems
June 16, 2014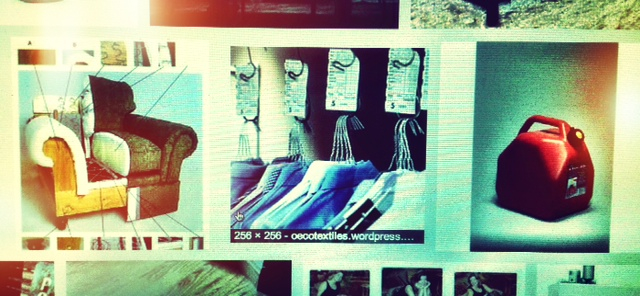 Are chemicals in our environment connected to the rise in non-genetic causes of breast cancer? For lots of us following environmental toxin news, it seems like a no-brainer, but scientists are still trying to firm up the connections. A recent study by the Silent Spring Institute and Harvard School of Public Health published in the journal Environmental Health Perspectives notes that exposure to chemicals that cause mammary gland tumours in rats is common, but "few studies have evaluated potential breast cancer risks in humans." In the studies that have been done, researchers found that chems that cause tumours in rats are often associated with breast cancer in women.
The scientists eventually narrowed the list from 216 chems known to cause breast tumours in rodents to 17 common groups of chemicals that should be "top targets for breast cancer prevention." On the list are substances found in gasoline/diesel fuel, flame retardants, stain-resistant fabrics, paint strippers and (gulp) disinfection by-products of chlorinated drinking water. The list goes on.
The study makes it clear that more research is definitely needed. Silent Spring's goal was to identify high-priority toxins for further research and biomarkers for these toxins in women. While scientists continue to learn more about these chemicals, the authors of this latest study say there's enough information to begin reducing our exposures.
On that note, here's the Silent Spring Institute's list of the most effective strategies:
• Avoid fuel and exhaust: Turn the engine off instead of idling. Give up gas-powered mowers and leaf blowers. Walk or take transit when you can. Don't store gasoline in your home.
• Quit smoking, and avoid secondhand smoke.
• Limit consumption of carcinogens in charred foods and use ventilation fans when cooking.
• Go to perc-free dry cleaners or ask for "wet cleaning."
• Avoid stain-resistant rugs, furniture and fabrics.
• Don't buy furniture with polyurethane foam, or ask for foam not treated with flame retardants.
• Make sure you're protected from toxins on the job. Push for good ventilation and protective equipment.
• Reduce exposure to chemicals in household dust by removing shoes at the door, using a vacuum with a HEPA filter and cleaning with wet rags and mops.
• Use a solid carbon block filter for drinking water.
This article originally appeared in NOW Magazine.