Battle of the Cleaning Cloths + Is Borax Really Toxic?
May 14, 2014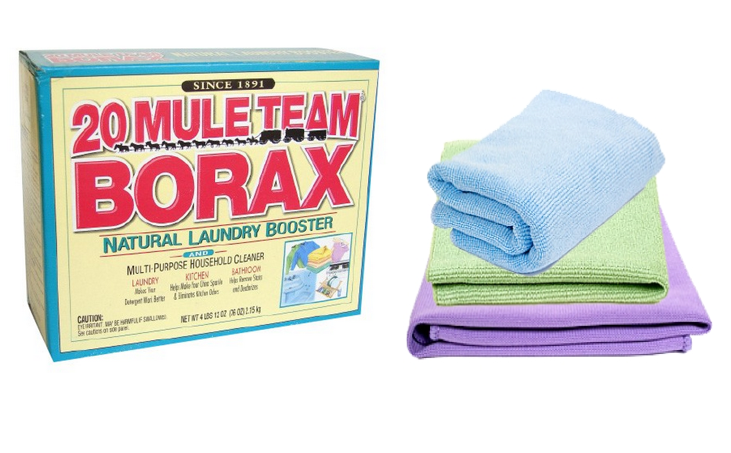 Back in the day (as in up until, oh, a year ago), Ecoholic used to be a straight up green advice column. Every week readers wrote in with questions and I'd answer them in Q&A format. We've changed things up since then (mixing in product guides, nature notes, greenwash of the week, green finds of the week), but sometimes there's no better way to get at a topic then with an old fashioned reader Q. Like this one on borax. Actually, I was at the Green Living Show in Toronto in late April when two women ended up asking me about borax. It hit me that I've never addressed the whole borax controversy with you guys so I figured there's no better time then the present. It's an important read for anyone that does DIY cleaning or uses all natural products. So is borax actually toxic? It's a complicated issue. I get into it all in the column but thought I'd provide you with some direct links to reports for those of you looking for background details.
A few years ago, the European Union said boric acid/borax were reproductive toxins at high levels but not endocrine/hormone disruptors (which can trigger problems at quite low levels). At that point, they issued another report assessing the actual risk to consumers and they said levels used in detergents/soaps/cleaning products were safe. Then things shifted. They ended up putting boric acid on the list of potential hormone disruptors. I think it's important to clarify that the list basically prioritizes substances for further research for endocrine disrupting effects. The list contains some seriously troublesome chems, like known toxin PCB,  as well as BPA, on which hundreds of studies have found hormone disrupting effects. Boric acid doesn't have the same lengthy rap sheet in terms of hormone disruption. So a lot of people are confused. Should we should keep using it with abandon? Should we shelve it for good?  Well, I think we should certainly pause and wait for more research. It's also unclear why the EU only put boric acid on the list and not borax, when they've lumped the two together before. However, they are chemically different. So we'll assume borax was intentionally left off the list and is of less concern to consumers then boric acid, at these quantities. In the meantime, you can double click on the image above to read the column laid out as it appears in print or click here for the online version. You'll get the full dirt, I promise.
While I was talking borax, figured I'd do a product guide to cleaning tools that promise you can get your home spic 'n span without any cleaning products (natural or mainstream) altogether. Plus I've gotten a ton of questions over the years from Norwex fans asking, 'Why didn't you review Norwex in Ecoholic Home?' 'Why did you say Norwex contains nano silver in an old column?" "Why don't you do an updated guide to cleaning cloths?" Yes, there's a small army of green cleaning women and men wanting an update on this situation so voila, I've updated my cleaning cloth guide. Again, you can peruse it above or read the whole shebang here.
So what do you guys think? Which cleaning cloths do you like/hate? Will you be packing up your borax or will you keep using it anyway? A lot to mull over on cleaning day, that's for sure.