What's lurking in diaper creams, umbilical cords & more
July 3, 2013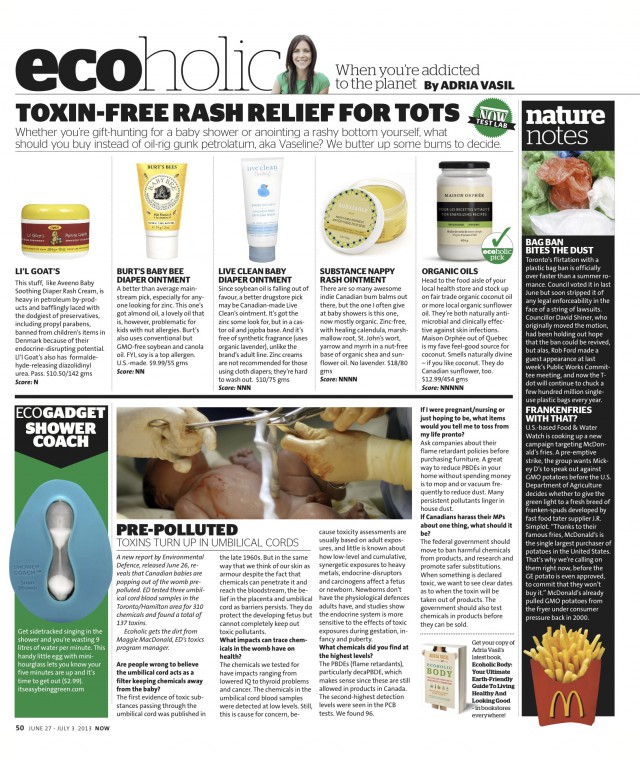 As a label hunter, I find toxins in all sorts of weird places (lube, douches, just to name a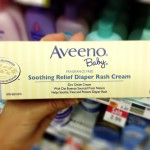 few), but there's nothing more outrageous than pollutants in products designed for use by children. Case in point: what the hell are propyl paraben doing in diaper creams like Li'l Goat's and Aveeno Baby when these preservatives have been outlawed in children's articles in Denmark because of their hormone-disrupting potential? I get into all this in my Ecoholic column on the topic, but I wanted to add a couple bonus reviews to the list. PS definitely check out my Q&A with Environmental Defence's Maggie MacDonald on their new Pre-Polluted disturbing report on toxins in Canadian umbilical cords, as well as Nature Notes & more in this Ecoholic.
PENATEN DIAPER RASH CREAM: Yes, this old school parental fave has oat extract, s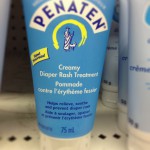 hea butter and sunflower oil but it's also got a lot of other junky synthetics, including suspected endocrine disruptor propyl parabens (see above). Penaten cream (in the tin) isn't quite as bad since it's paraben-free, but it's all petrochemicals as well as allergenic and GMO-heavy soy oil.
WELLSKIN BARRIERE SILICONE SKIN CREAM: This stuff has not just one but four parabens including propyl and butyl parabens banned in Denmark. Come on. It also contains suspect BHT and TEA. A definite thumbs down.
ZINCOFAX: This one's not as bad as these others, but honestly, you can do better than petroleum by-products as a base for zinc. Live Clean is a safer drugstore pick for zinc fans.
PENNY LANE: If you want a natural zinc cream, Penny Lane makes an awesome one with calendula, chamomile oil, shea butter , beeswax and naturally antiseptic coconut oil. Local, indy, handmade and it works.
LALABEE BOTTOM BALM: This one's 90% certified organic and vegan (organic olive oil, sunflower oil, calendula/chamomile flowers/lavender flowers and vitamin E). Though not everyone is into lavender in baby stuff – they use less potent lavender flowers over lavender essential oil.
The list could go on and on since there are so many amazing indy bum balms out there. Which one is your fave?