Fashion revolution day: who made your clothes?
April 24, 2015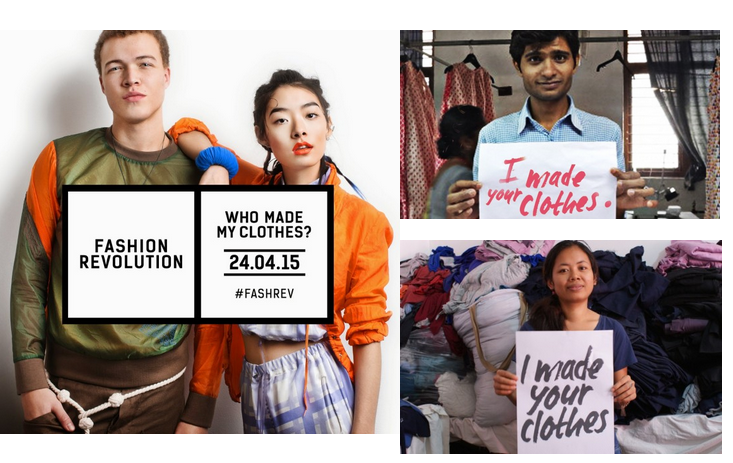 Today is Fashion Revolution Day. It's also the second anniversary of the fatal factory collapse that killed over 1100 garment workers in Bangladesh. Fashion Revolution Day commemorates the event by requesting we flip our clothes inside out and asking "who made my clothes?" Really, it's a question we should ask every time we go shopping, but having an annual day dedicated to discussing worker rights in the fashion industry is a step in the right direction, keeping the issue in the public eye. On the ground, at the factory level, so much work still needs to be done. A new report by Human Right Watch says conditions in Bangladesh in particular are still appalling. Union leaders are still targetted, assaulted and fired. The report goes on:
 Workers also continue to regularly face ill-treatment and poor working conditions inside factories such as physical and verbal abuse, forced overtime, denial of paid maternity leave, failure to pay wages and bonuses on time or in full, pressures not to take toilet breaks, and provision of dirty, unpotable drinking water. The vast majority of garment workers are women, while supervisors and managers are mostly men, and sometimes the verbal abuse of women workers is of a sexual nature.
Yes, pretty much all the big brands and retailers have company codes of conduct that technically require a long list of worker rights protection, including the right to freedom of association and collective bargaining.
But despite these measures, workers in factories told Human Rights Watch that many abuses and violations are simply not noticed, or are ignored, by the monitors inspecting factories by or on behalf of buyers.
If you want to be part of Fashion Revolution Day's call for better working conditions, post a selfie wearing your clothing inside out, and send it to the brand you're wearing asking #whomademyclothes? on Twitter/Facebook/Instagram. You might also want to fold in some of Human Rights Watch's requests and ask brands/retailers to stand up for workers that want to unionize, lobby to strengthen Bangladesh's freedom of association laws and protect workers that speak up against rights violations from retaliation.
Oh and if you're in Toronto, join Fashion Takes Action's public Sew-in at OCAD University today, Friday, between 10 and 2pm. Also, before you head out to the mall to buy your next outfit, check out FTA's awesome shopecofashion.ca site loaded with great designers (many Canadian) making sweatshop-free apparel with planet-friendly textiles. And dig deeper into its individual member designers' websites (like Preloved, Vespertine, Meemoza, Jennifer Fukushima and Kali Clothing) for even more ethical, sustainable styles. That way you can glance at your tag without a guilty conscience.