Out with the Old Spice: How to avoid creepy chems in men's gear
November 16, 2012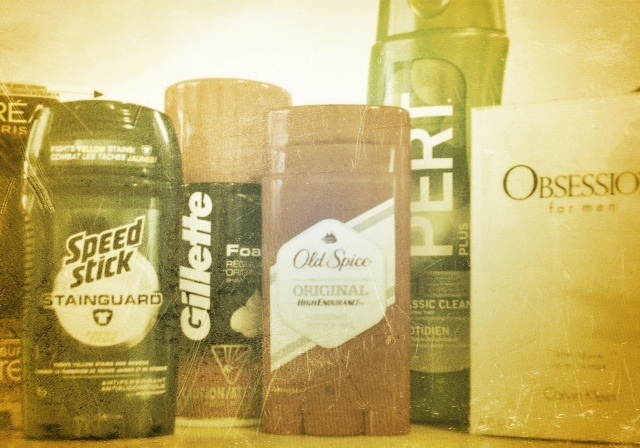 Some guys could probably survive on a bar of Irish Spring alone. In truth the average man uses six personal care products a day (think shampoo, conditioner, toothpaste, shaving cream, deodorant, aftershave), which ads up to a whopping 80 chems every morning. That number spikes for the growing posse of styly metrosexuals, Queer Eye for the Straight Guy disciples and grooming-conscious gents using men's facial scrubs, anti-aging creams and beyond. That's the topic of this week's Ecoholic column in NOW Magazine, triggered by a new report from Environmental Defence entitled The Manscape: The Dirt On Toxic Ingredients in Men's Bodycare Products.  I get into the nitty gritty around carcinogen and hormone disruptor-laced brands but didn't get a chance to dig into more natural alternatives. Thought I'd share a few with you right here, right now.
Skip the shaving cream altogether and grab yourself a bottle of oil from your kitchen. Be it olive, grapeseed, safflower, sunflower, coconut, just rub a few drops on your damp face after showering and shave away. Super cheap and totally edible. (Coconut oil, by the way, is solid below 24 degrees so massage a dab in your palm to melt it). Still want shaving cream? Try Weleda's.
Face feeling a little dry come winter? Dab a drop or two of any quality oil listed above on your face (and/or body) after your shower. My man's actually hijacked my sample of Pure + Simple's Sensitive Pitta Face Oil with anti-inflammatory neem oil (it's also my pal Scott's fave). Again, since you only use a drop at a time, these are surprisingly economical, and they'll make your skin irresistibly touchable rather than a flakey mess.
Are you a Head and Shoulders man? Skip the chem-laced soup (which also happens to be toxic to aquatic life) and bypass shampoos with scalp-irritating sulfates. Lather up with a natural, herb-rich shampoo like Botanical Therapeutic shampoo or Ferlow Botanicals Neem Shampoo. Actually, you can buy any natural shampoo like, say, Green Beaver's and add a few drops of neem oil (from the health store) to a to your morning lather. For tougher cases, put 1 teaspoon straight neem oil combined with a teaspoon of olive oil on your scalp and let sit before washing. Rinsing hair with 1 part apple cider vinegar 1 part warm water helps too.
Want to know which deodorants work? I'll be writing up a bunch of new deodorant reviews on ecoholic.ca soon…in the meantime, my two male testers both love Penny Lane deodorant (I agree, it rocks!).
Looking for more natural storebought men's personal care products? Check out Aubrey's Men's Stock products. Herbal Cowboy also has some "manly" scented vegan, phthalate-free products. Both are available at health stores. For more unisex product recommendations, pick up a copy of Ecoholic Body! I rate dozens of shampoos, toothpastes, you name it and offer up recipes too.