This suds for you: Bonus natural bar soap reviews
May 22, 2013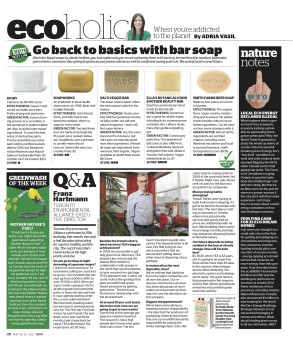 I've got to confess, I love shower gel. I've always found bar soaps really, really drying, no matter how moisturizing the promise. But I've been trying to wean myself off gels because of the unnecessary plastic bottles they come in and the much longer list of ingredients generally required to make it. Back in the day, all you needed to make a bar of soap was a little fat (animal or vegetable) and some ash. Things have gotten a lot more complicated since then: mix together ecologically destructive palm oil from the tropics, factory-farmed animal fats, dozens of perfume ingredients, the list goes on. Luckily, health stores are crammed with options. How green are they? Since the column – which you can read here – only had room for 5 (Smith Farms, Ella's, Val's, SoapWorks and Ivory), I'm including a few more in this blog:
To be honest, I've tried them all and like them for being free of toxins, handmade, independent/Canadian, and giving it a go against the Dials and Doves of the world.  In discussion with many of them, it's clear they struggle to figure out which is the right oil to use as their base, balancing local with GMO concerns, imports with deforestation concerns, sustainable with greenwash concerns, and still trying to make affordable soap that people are willing to pay for. Here's the low down:
Rocky Mountain Soap Company: Palm oil-free and Canmore, Alberta-made. Great variety of natural soaps for all sorts of skin types (used to buy their pumpkin soap). The thing is they've been using, as part of their base, saponified cottonseed oil (cotton's one of the most chemical insecticide heavy plants in the world) as well as canola oil, which while local, is not GMO-free so they're in the middle of replacing both the canola and the cotton seed with certified organic sunflower oil – high fives Rocky Mountain! $5.25
Hempen Stuff: (updated) I've bought this soap for many years (love the hippy trippy labels!). Handmade by a one-woman operation (Della) living off the land in rural Saskatchewan. Used to be palm-free but Della chose to use some palm oil from the Roundtable on Sustainable Palm Oil in some of her soaps to show her support for sustainable growers. The RSPO is the only certified sustainable palm there is but it's also guilty of letting palm growers get away with breaking the rules and knocking down rainforest. What to do? Keep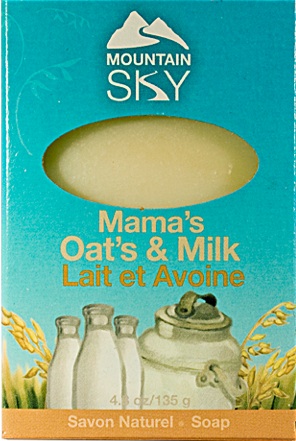 pressure on RSPO to beef up its MO. Della says you have to trust your suppliers and try to choose wisely.
Mountain Sky: These guys used to be palm-free but now use sodium palmate because they say coconut oil prices started to climb too high. Talked to owner Nina who says it was a tough choice and that prices almost drove them out of business. Tells me they use palm oil from Roundtable on Sustainable Palm. Also uses Canadian canola oil because Mountain Sky says it's the most local choice, but it's hard to find GMO-free canola. PS Their liquid soaps are still palm-free. $4.99
Olivier: New Brunswick brand makes killer moisturizing equivalent to Smith Farm's beer soap. All olive oil and cocoa butter, with some natural scents if you so choose. Love the carrot oil soap.  $7.95
Consonant Organic Body Soap: One of the rare bar soaps using certified organic oils. Of course, this means the price tag is higher, but it's otherwise pretty guilt-free. Nothing but organic olive oil and naturally occurring-glycerin from the olive oil saponification process -includes 10% straight (unsaponified) olive oil for extra richness and moisture. $12
Crosswind Goat Soaps: Hip hip hooray! One of the only soaps that uses super duper local ingredients – nothing but their own goat milk, saponified (if you pick the natural option, without added essential oils). Wish they sold online and not just at farmer's markets. $7.50
Honey Pie Old Fashioned Farm Soap: Another rare locavore soap, this time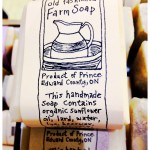 made the old fashioned way – with lard from Honey Pie neighbour's small family farm in Prince Edward County, Ontario. Here's a link to the farm. They also use Quebec-grown Organic sunflower oil their very own beeswax. $7
PS For more non-soapy stuff from this week's column, including Nature Notes, Greenwash of the Week and Q&A with Franz Hartmann, read on.