The rise of young female farmers
October 15, 2016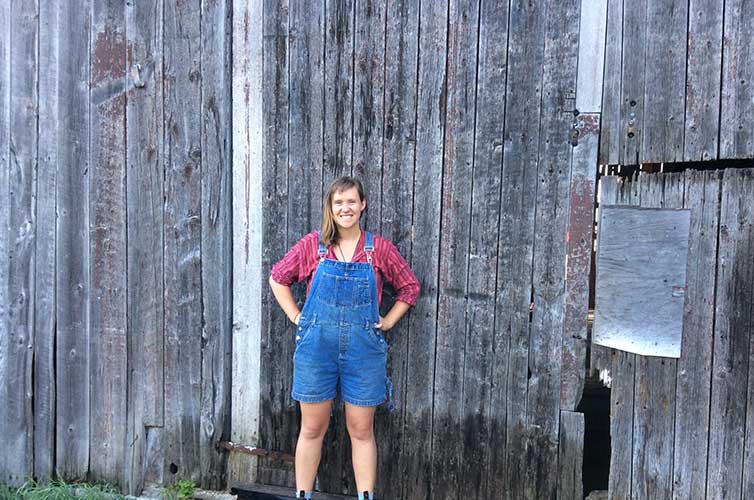 Down a gravel driveway, beside an old glass greenhouse and three plastic-sheathed hoop houses bursting with tomatoes and cucumbers, sits a large faded wooden barn. Inside, a handful of farm workers amble in one night a week to debrief, or, more accurately, de-stress. "We do a yoga night Tuesday nights," says Bethany Klapwyk from under a sun-bleached yellow and green Beaver Lumber ball cap. "Just with the team. Because honestly, we're all very sore."
Klapwyk is careful to ensure that everything on this farm is done sustainably, not just to keep the soil in balance but so she and her farm team can keep humming along healthily, too. She's the co-owner here at Zocalo Organics, an 83-acre property dotted with greenhouses, veggie gardens, hayfields, cedar forests and wetlands in Hillsburgh, an hour and a half north west of Toronto. And at 27, she's one of the nation's youngest farm operators, part of a burgeoning movement of female agriculturists in their 20s and 30s seeking to work the land differently, sustainably, ecologically.
Like 68 per cent of farmers recently surveyed by the National New Farmer Coalition, neither Klapwyk nor her husband had grown up milking cows or driving tractors. Klapwyk's father has an aluminum siding business near Guelph. It took some online crowd-funding, a half a million dollar Young Farmer Loan from Farm Credit Canada and some parental help, but in 2014, Klapwyk and her husband scraped enough funds together to purchase the land off a retiring organic farmer – for about the price that other young couples are spending on a semi-detached home in the city.
Now, only two seasons in and Zocalo is already bringing in more money than the farmer that owned the property for 25 years prior. Like many in this growing crop of new and young female farmers, she learned how to work the land for high-value direct-to-consumer food by volunteering, interning and cooping on farms throughout Canada and the Americas after university. Zocalo is now selling certified organic veggies to over a dozen area restaurants (including Five Diamond-rated Langdon Hall) and a Rowe Farms butcher shop, as well as 100 some-odd "shareholders" (households that pay up front for a season of weekly produce boxes).
It's no secret that the farming industry needs this fresh blood. StatsCan says the sector's seen a staggering decline of farmers under 40, plummeting 75 per cent from 1991 to 2011. The average Canadian farmer now looks something like this: male, 54 (and counting), and running ever larger consolidated farms. Though last checked, there were 80,605 female farm operators in Canada in 2011, when the last national farm census was published. That's still just 27.4 per cent of all farm operators – up one per cent from the previous decade. But there is one notable sunny patch: organic farming. Nearly a third of organic operators were female (in British Columbia that number jumped to 40 per cent) and, proportionally, there are more farm operators under 40 in organics, too.
Factor in the surge of women dominating organic farm apprenticeships and post-second..