Bangladesh, bouquets, banning bee-killing pesticides and more
May 15, 2013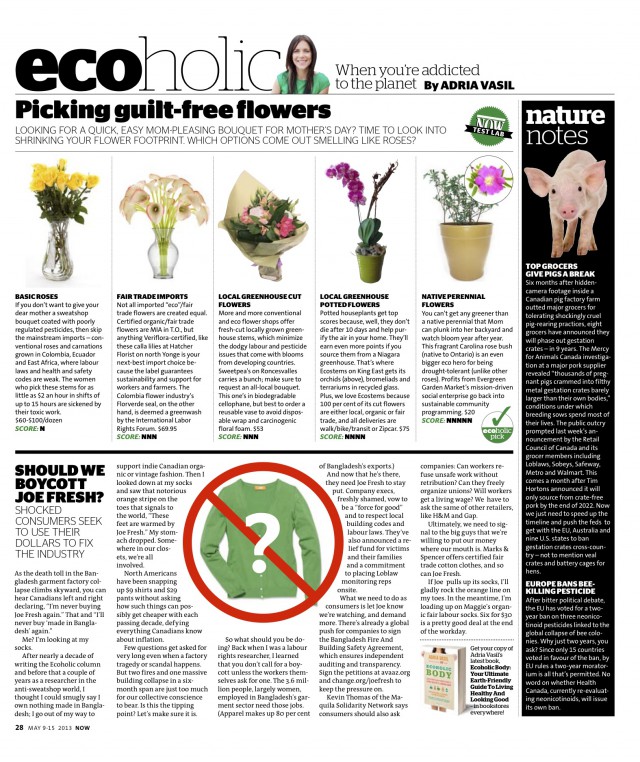 What do cut flowers and sweat socks have in common? On the surface, not so much. However, if you follow the trail back to where they were made, they both come with a pretty heavy back story the store clerk doesn't often sell you on.  The story, whether we're talking Joe Fresh socks or the Mother's Day flowers slowly wilting in your mom's vase (both featured in this week's Ecoholic spread in NOW), is the one about the people getting shafted, ill and killed to make our stuff under atrocious working conditions with virtually no safety regulations safeguarding their health (or the health of the planet). Why do I keep harping on this in Ecoholic? Isn't this a green living blog not a worker rights symposium? Well, before I started working as a news journalist, I was first an anti-sweatshop activist and then worked as a labour rights researcher so the issue is really near and dear to my heart. I've always been drawn to the hidden impacts of all the stuff we buy – whether it was tested on animals, whether it was made in a sweatshop, whether it's loaded with carcinogens and hormone disruptors, whether it ravages ecosystems to make it, use it or toss it. If we're going to live more consciously on this planet, it's time to consider the whole truth about the stuff we buy – and demand a better way.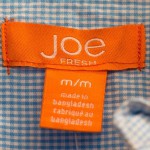 The good news is the media glare that's accompanied over 1100 human beings crushed to death in a factory collapse in Bangladesh has pushed H&M, the owner of Zara, Benetton, Mango and as of Tuesday Loblaw/Joe Fresh to sign the Accord on Fire and Building Safety in Bangladesh with the Global Unions IndustriALL and UNI as well as Bangladeshi unions. Gap (big daddy to Old Navy/Banana Republic brands) and Walmart are still refusing to sign on.
But no matter what brand you buy, unless you weave it and sew it yourself, you've got to ask questions about how it was made. One thing I learned on the job as as an anti-sweatshop researcher is if they're shitting on they're workers they're no doubt dumping dyes, wrinke-retardants and a stew of processing chems into local waterways too (just check out Greenpeace's Detox campaign, now targetting Gap's toxic trail). I also learned that you should only boycott a company if its workers call for a boycott. But even if you choose never to buy Joe Fresh, Mango, Zara, Benetton, Children's Place, Dress Barn or Walmart (all of which were clients of the collapsed building) you may be walking into a store whose labour rights record is still sitting like a poison mushroom in the dark. So please, check your closet, pick your favourite brands sourcing in Bangladesh and take 30 seconds out of your day to honour the women and men quite literally dying to make our stuff by asking those brands to sign onto the Accord on Fire and Building Safety in Bangladesh ASAP. Post it on their Facebook page, tweet it, tell the store manager, email the company directly, and pass it on to friends. And next time you're buying any brand, be it made in Canada or China, ask them what they're doing to make sure they're ethically and environmentally made. We need to keep reminding brands that we're paying attention.
Wait! Before you go, don't forget to check out the Ecoholic spread on  guilt-free flowers,and my weekly Nature Notes on cage-free pork and the EU's ban on bee-killing pesticides. Lots going on in Ecoholic every week!