Bleeding veggie burgers & the big money push behind alt meat
June 2, 2018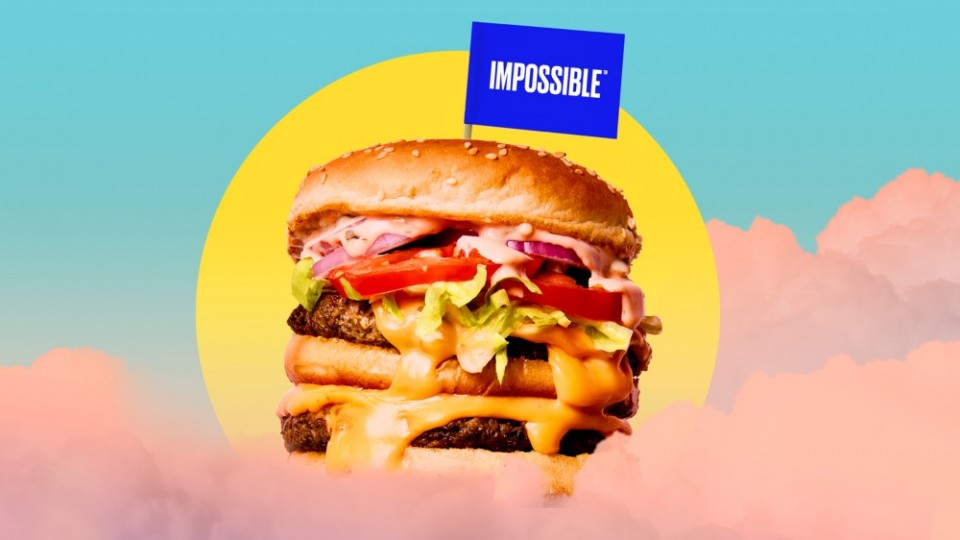 At a bustling restaurant in downtown Toronto, rumour has it Silicon Valley's hottest innovation is here somewhere. Not the latest smartphone wedged to a diner's ear two tables over, but a heaving burger, served up with pickles and special sauce, according the specials board. So, what does this burger do that makes Bill Gates and friends line up to throw bags of cash at it? Technically, it sizzles and "bleeds" much like any other rare burger – except no cows, or turkeys or chicken for that matter, were harmed in its making.
With trend spotters declaring "plant-based" everything the hottest food craze of 2018, all while North Americans eat more protein than ever, the market for "alt meat" is undeniably blowing up – and a growing handful of San Francisco Bay area startups with a taste for food have been leading the charge. They're not serving up the dry soy burgers and chick'n strips of yore. No, buzzy companies like Beyond Meat (now at a growing number of Canadian restaurants), Impossible Foods and Memphis Meats are spending millions on high tech labs staffed with food scientists, biochemists and physicists to replicate "the architecture of meat," as Beyond Meat's CEO Ethan Brown put it. They're running burgers under MRIs, replicating flavour molecules, splicing genes and, in the case of cellular agriculture companies like Memphis Meat, they're brewing actual "clean" meatballs, milk, even leather in bioreactors.
Okay, so not all of that will sit well with the whole grain set, but it's certainly caught the meat industry's attention.
No doubt meat has needed a radical makeover. The industry's been slammed for being a bigger climate change driver than all the cars, trucks and planes on the planet combined (not good when global meat consumption is expected to double by 2050, thanks to growing demand from developing economies). What's more, it requires tremendous amounts of water, land and other resources, as well as controversial antibiotics and other drugs. Not to mention, industrial meat farming has spent the better part of a decade under heavy fire from animal welfare group exposes. It's all left a bad taste in consumers' mouths, and, as one of the globe's largest meat processors, Cargill, put it, "[Millennials] are driving calls to do things differently."
The thing is, until recently, fake meat, well, it's kind of sucked. While an April study by Mintel found that an impressive 53 per cent mostly omnivorous Canadians say that they eat plant-based meat alternatives like veggie burgers and hot dogs (with one in five Canadians eating mock meat a few times a week), only 16 per cent say those alternatives "taste as good as meat." To win over skeptics, Mintel's associate director of food and drink, Joel Gregoire, says the makers of meat alternatives will have to bridge the taste and texture gap between their products and actual meat.
It's a gap that's rapidly closing thanks to this new wave of alt meat innovations emerging south of the border. Globally, the market for plant-based meat is expected to reach $4.6 billion (U.S.) in 2018 and climb to $6.3 billion by 2023. One agro-biz financier, Rabobank, has warned animal protein companies to seize the opportunity "or they will turn into threats." So far, the world's largest meat companies are wisely getting in on the action. Chicken processing giant Tyson Foods has snatched up a five per cent stake in one leading "bleeding" veggie burger maker, Beyond Meat. It, along with Cargill, also secured a minority investment in Memphis Meats, the San Francisco startup growing clean beef, chicken and duck meat from animal cells. Cargill, by the way, sold its last two remaining feed yards last year, to, in part, "explore plant-based protein, fish and insects."
Not to be outdone, Canada's largest packaged meat provider, Maple Leaf Farms, has purchased two popular plant-based protein companies, Field Roast and Lightlife Foods, boldly noting, "This acquisition advances Maple Leaf's vision to be the most sustainable protein company on earth, including a core strategy to diversify into plant-based protein."
Maple Leaf Foods CEO Michael McCain has acknowledged that the food industry is "pivoting towards a crisis," ceding that the planet's limited…Keep reading on Corporateknights.com
This article originally appeared in Corporate Knights.