Scrubalicious: My DIY Recycled Coffee Scrub Recipe
April 18, 2012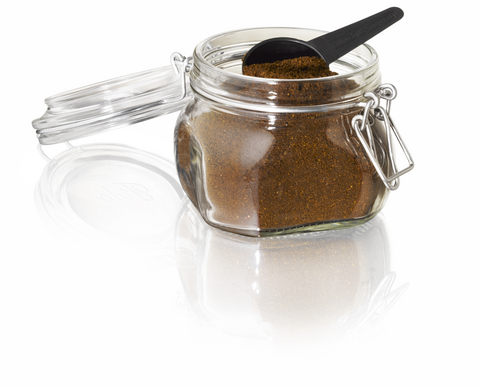 I'm sorry but there is no bigger waste of money than buying a body scrub from the store. Come on, $20 for a jar of sugar and oils? Nuh-uh. Hence why I didn't include any store-bought scrubs in Ecoholic Body. Just mix half a cup of leftover coffee grounds from this morning's cuppa joe with half a cup of (organic/fair trade) sugar and half a cup of any quality oil you like from coconut oil to almond/jojoba/grapeseed oil (I like to do a mix of coconut oil from the food aisle with whatever odourless oil I have on hand, though keep in mind coconut oil is solid when it's below 24°C, not liquid, so it takes a little extra mixing). Vanilla lovers: add a couple drops of natural/organic vanilla extract for a swoon-worthy blend.
Keep the deliciously sludgy paste in a lidded jar by your tub then scoop and scour. It'll make a mess, yes, but you can rinse it away and trust me – there is no stronger body scrub in town. Perfect for sloughing off layers of dead winter skin. Plus it's super nourishing and will leave your skin ridiculously soft. FYI, coffee's also  great at 'reducing the look of cellulite' (though let's get real here – nothing you rub on your skin will ever get rid of the stuff). Did I mention we meant to include this recipe in Ecoholic Body but accidentally cut it out? Oops. Well, enjoy!
P.S. – You can add extra sugar for a thicker scrub, if you like. Also, I prefer to simply rinse the scrub off and not wash with soap after scrubbing so I get to keep all those amazing oils on my skin.