Detox your head: the search for a greener haircut
September 22, 2012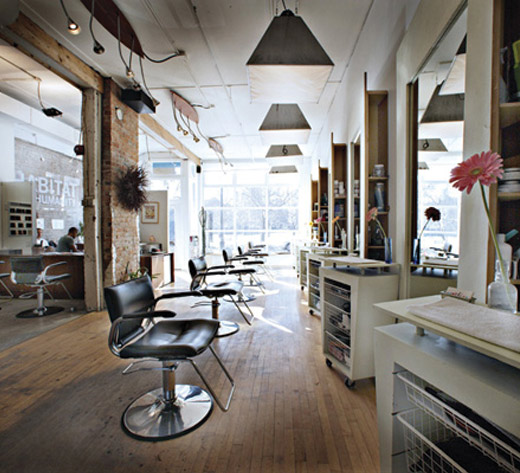 Ever been traumatized by a hair cut? Maybe a bowl cut left you in tears or you decided, two minutes too late that, no, a pixie cut doesn't really suit your face. Salon trauma gets physical too, think burning scalp and a searing rash. (For your sake, don't go googling medical pictures of chemical burns on scalps – I still haven't recovered.)
Underneath the everyday glam of salons lurks a lot of nasty chems. And while you and I may breeze in and out of a hair joint in a couple hours a few times a year, the people who work there are stuck inhaling lung-irritating VOCs (especially in the aerosols), hormone disrupting phthalates (from all the synthetic scents) and carcinogenic, allergenic hair smoothing/curling/colouring chems. I talk about all this and more in this week's Ecoholic column.  The good news: More and more stylists are pushing for change. Earlier this year American beauty salon workers met with the feds in Washington trying to persuade them to reduce and restrict their chemical exposure on the job.  And two years ago hundreds of hair stylists launched a BC-based class action against the makers of Brazilian Blowout for exposing them to illegal and totally unhealthy levels of formaldehyde. The case is still pending.
Until more chems are taken off the market, keep asking your salon what it's doing to go green and use more natural products. FYI, if you need extra oomph from colour, I can't stress this enough, even hair dye brands with the word organic in their name contain some chems of concern, just fewer of them. (Organic Color Systems, for instance, uses half the air polluting MEA of other brands and only 0.4% allergenic, cancer-linked PPD). Henna is the only 100% natural hair dye but good luck finding a stylist that will work with the stuff. They normally lob swear words at it for being unpredictable and impossible to work with. You'll have to go it alone at home if you choose to go this route.
Now, if your salon isn't already a GreenCircle salon then you've got to start harassing them to join the club. Spoke to CEO Shane Price and these guys have a lot up their sleeve. Not only do they collect hair chems, recycle foils/tubes/plastic/paper for salons and stockpile hair clippings to turn into boons to sop up oil spills/leaks that happen all the time on Canadian turf , they've also stuffed your old hair clippings into pillows and sent them off to Haiti with MILKBAGSunlimited.

At the experimental stage, GreenCircle is working with a professor in Guelph to develop an enzyme that can be added to drains to help break down hair chems, as well as water-saving hair matts to be used in potted plants (sort of like that coconut fibre coir stuff). They're even working on decorative tiles using the hair clippings. Pretty cool stuff.
Bottom line is, unless you cut your own hair, we've all got to visit a salon at some point. Encourage them to detox and cut back on waste wherever they can, if they haven't already. We'll all feel better for it.