Rain, rain, come and play: the updated rain barrel guide
June 18, 2014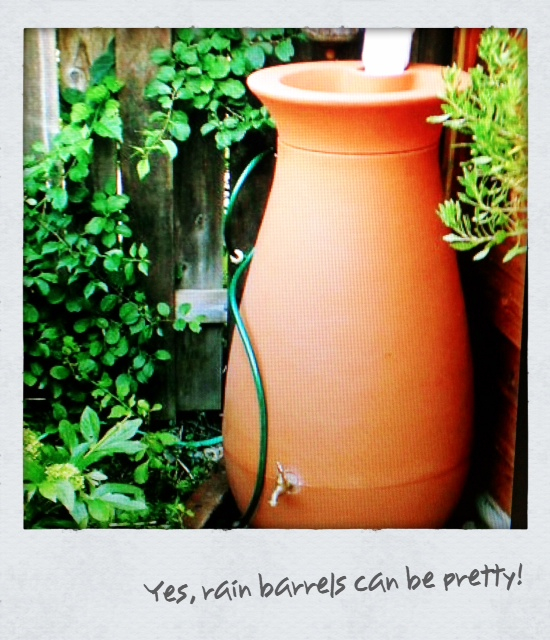 There's something about growing up in Canada that makes us want to just open up the taps and let the water flow free like the wind. I distinctly remember being 11/12 years old and taking 45 MINUTE long showers without a second thought (I probably cycled through a whole small lake in that time!). Maybe because we have over 2 million fresh lakes and water costs us next to nothing to use, we just don't think about it as a problem the way, say, Californians do. Except for in the dead of summer, when the rain stops falling and your municipality starts calling on us to refrain from pulling out our sprinklers so often. When that precious rain does come, don't let all that free water hitting your roof flood storm sewers and basements. Rain barrels can capture thousands of gallons over the summer to help keep your garden green without chlorine. So which barrel's worth buying? By the way, I've updated my reviews since these first appeared in NOW so be sure to dig in.
HEAVEN & EARTH COLLAPSIBLE
This one may be super-convenient to pack up come wintertime, but it'll totally disappoint you if your ground's not level. Plus, some stores sell a version that's made of vinyl (softened with hormone-disrupting phthalates), which is a bad idea. If you do get an H&E barrel, make sure to opt for one made of polyester or nylon. $99. 2/5
FISKARS
I tested out this rain barrel last summer, and it drove me nuts. Yes, the spigot provides clearance for watering cans. But without a second spout at ground level, it's impossible to empty this sucker out without turning it on its head, so a lot of funky water can fester on the bottom. I thought I'd drained it completely, but I hadn't, and it froze and split over the winter. Did I mention that the diverter is a pain in the ass to install, since a hole saw isn't included? Made in the U.S. No recycled content. $160. 2/5
RTS
There are a lot of fake wood rain barrels on the market. This flat-backed one, made in Canada, will work just fine if you have room to rest it directly under your downspout. Otherwise, it's not the barrel for you, since it doesn't offer a diverter. You also have to clean the screen periodically to keep it from clogging. There's only one spigot and it's low to the ground, so this barrel has to be put on a stand to access the 189 litres it holds. $120. 3/5
ALGREEN
Let's face it, most rain barrels are not the prettiest things. Algreen's are probably the most style-conscious out there and great for high-visibility spots (see image at top of post). Plus they have planter-friendly lids for cascading greenery. These barrels (from 190 to 380 litres) are built to withstand Canadian winters, meaning they shouldn't crack like others do. They're made an hour outside Toronto, and the charcoal and brown models have 15 per cent recycled content. Bonus: the company offers a cool pump kit to help get H20 from the barrel out through a hose. Update: since these have a spout at the very bottom for drainage and a spout at a good height to allow for watering cans, you don't need to put these on stands. Good slim-line options on hand for compact spaces. I may get one of these if I can squeeze one at the front of the house, but making room for recycling/garbage/compost bins and two barrels may be pushing my luck in a tight urban space. It's like a giant game of Tetris out there! Best prices are at amazon.com. $150+ 4/5
RAINBARREL.CA, RIVERSAFE
If you're in the market for a new rain barrel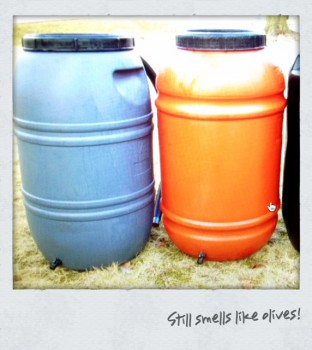 and aren't so fussed about its appearance, look for one that gives twice – once to the earth (by recycling rain) and once to charity. Rainbarrel.ca sells über-eco upcycled food barrels (most are 220 litres and $60 for the basic barrel) largely through non-profits as a fundraising tool. To find a barrel near you or a DIY barrel kit, head to this website. UPDATE: I bought one of these. Love that it kind of smells like olive oil. Yes, it's a bit of a honker, especially since you have to raise it a foot high to access the water (their recycled plank stands are super green but aren't visually discrete). Having tested this puppy out on a compact, urban semi-detached property, it only confirms my initial sense that these barrels may not be for tight, high visibility spots, especially if aesthetics are an issue. Although, hey, these are paintable so my good friend & upcycling queen Tiffany Pratt will be coming by in a couple weeks to help me sass it up. I'll keep you posted on how it turns out! Good news is Rainbarrel.ca sells both in Canada and the US. RiverSafe barrels, on the other hand, are pretty local to Toronto. They raise funds for the non-profit water protectors at RiverSides. These are super-sturdy and pretty huge, holding 460 litres, and the black ones are 100 per cent recycled. (You can score one at Evergreen Brick Works or riversides.org, $225.) 5/5
**If you've got a little Mike Holmes in you somewhere, you can also try making your own DIY rain barrel out of an old garbage can or wine barrel. There are loads of DIY instructions on the net.
SIDE NOTE FOR WORRIERS: I've heard from a few of you that were worriedthat barrels would start overflowing after one downpour. Don't worry! This is why barrels tend to come with an overflow valve. And if you buy a diverter, that water just keeps on chuggin' along down your downspout if your barrel is full. Pretty clever.
SIDE NOTE FOR GLOBAL WATER WORRIERS: I interviewed a bunch of leading thinkers on water issues at the tail end of This Drowning World photo exhibit in Toronto. Author Alanna Michell, clean tech guru Tom Rand and others were on a panel post photo exhibit tour so I interviewed them for their take on why we're drowning and how humanity can rescue itself. For the full article head to NOW and scroll past the barrels.
A shorter version of this article first appeared in NOW Magazine.