Free Your Ride: what's the best car-sharing service?
October 15, 2014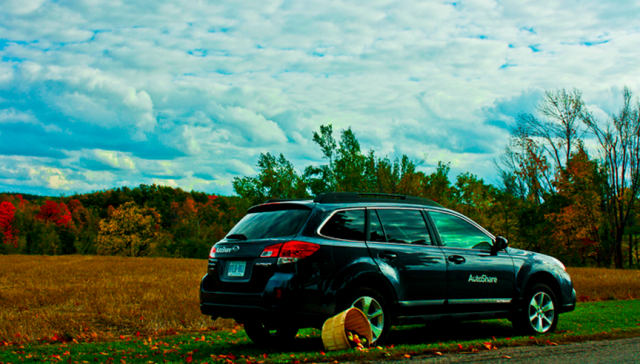 The summer after 9th grade, my parents moved my little brother Mark and I from Montreal to suburban Mississauga, a gaping 35 kilometres from downtown Toronto. Back in Montreal, I was used to taking the city bus to school downtown and subwaying around to meet friends. In Mississauga, I quickly figured out you'd have to wait a good 30 minutes for sparse busses and walking got you nowhere in a hurry. My family got real car dependant real fast.
These days, my household is technically car-free, though I do have memberships to pretty much every car-sharing service in town. Call it research for my car-sharing guide, but each one has different advantages (trunkless Smart Cars, for instance, are a bad idea for trips to IKEA, though I did manage to cram a giant patio umbrella in one of these puppies, which made me want to try shoving a dozen clowns in here, too).  I know there are some hardcore treehuggers who would rather lie under the tire of an 18-wheeler rather than get in a car and, on the other end of the spectrum, a lot of you living far from car-sharing services let alone descent transit will be rolling your eyes right now, muttering, "I don't think so, honey." I know it's not ideal for jobs that make you drive to all corners of the earth hauling gear and that sort of thing. But if you've got car-sharing services in your 'hood, I really recommend checking 'em out. Gas and insurance are included, it's way cheaper than owning and it's definitely a lot easier on your carbon footprint. I still love my bike and I'm super lucky to have a streetcar running right outside my front door (except for at 6am when it starts dinging its bell every few minutes) but I won't deny how happy I am to pull out one of my car-sharing membership cards when I've got a trunkload of stuff to pick up that won't fit in my bike basket. Anyway, think about it and if you live in Toronto, take a look at my car-sharing reviews.