Raise your hand if you're sure: natural deo reviews & recipes!
June 20, 2013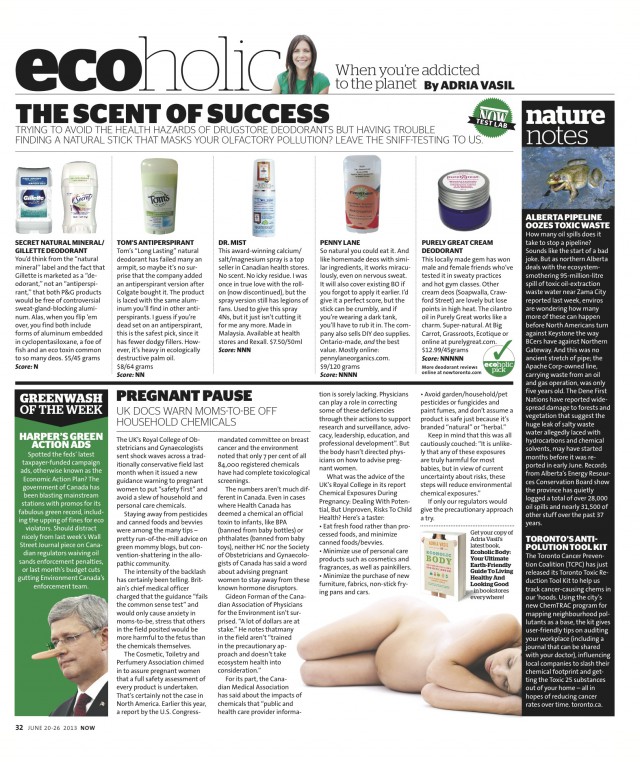 Clearly I hit a soft spot. Or a stinky spot. Either way, over 100 people responded my latest Facebook poll on which natural deodorants people loved or hated. Julia summed it up nicely: "I've tried a few and hated them all." That seemed to be a popular consensus. Trust me, I've tried probably 35+ brands over the years of Ecoholic testing (19 reviewed in Ecoholic Body alone) and the vast majority made me smell worse than I would if I wore nothing at all. How possible? I swear some replicated the scent of a dead animal. Just wrong. Some of my old favourites have shifted out of favour…Weleda stopped cutting it for me, and I still miss Dr. Mist roll-on, since it offered such better coverage than the spray (which vanishes quickly, making it more costly), and Savonnerie Des Diligences worked but it left yellow marks on a lot of clothes. SO after another year and a half of  deodorant testing since the last draft of Ecoholic Body was sent off to publishing, I've written up my newest deo reviews in NOW Magazine, which you can read here. And I'm including a couple extra bonus reviews (and recipes!) below. Share your own reviews in the comments!
HERBAN COWBOY:
Tried this "guy" deodorant on recommendation of a girlfriend. Scented version worked for several weeks and loved it, but it started conking out of me. The unscented was a no go from the get go. NN
CRAWFORD STREET
I wanted to love this Toronto-made deodorant cream and many people swear by it, but it reached its limits during last summer's never-ending heat wave.  I officially gave it the boot after I stunk up a beach party at Sugar Beach. Was NOT going to wave my hands in the air like I just didn't care, that's fo' sho.' But since it's got a lot of fans, I'm giving it 3 N status. NNN
SOAPWALLA
This was my go to deo after I gave Crawford the boot (it's more organic too).  An American indy deodorant cream loved by a growing lot. I put it to the test last super hot summer. It got me to the end of the day without creating weird odours. At worst, after a sweaty day of cycling in 35 degree heat I sort of smelled like dirt, but nothing offensive.  I still think Penny Lane and PurelyGreat are better at keeping you smelling benign to be quite honest. Purely Great just uses more essential oils to help things along. NNNN
PLAIN BAKING SODA: Seriously. Just put some in your palm and dust under your arms after your shower. At the end of a few hot summer days, like Soapwalla, at worst I smelt like dirt, but not BO – yay!
DIY "BEST DEODORANT EVER!" RECIPE

Tons of Ecoholic readers have given up on store bought deos because the truth is the most natural DIY formulations work so damn well (their ingredients are pretty much the same as what you'll find in deodorant creams and products like Penny Lane)…You can just mix basic corn starch with baking soda, though it works even better in a coconut oil base. And you can ditch the corn starch if you prefer and stick to baking soda and arrowroot powder in coconut oil. This one's from Prairie Homestead and others: 1/3 cup coconut oil (fair trade organic is best!), 1/4 cup baking soda, 1/4 cup arrowroot powder, 4 tablespoons cornstarch (GMO free is best), organic essential oil of your choice (Correction: this was not supposed to read grapefruit seed extract! This should have said grapefruit essential oil -doh. Sorry gang!).

Bang-on title courtesy of Morgan Rae

ADIDAS 0% ALUMINUM
While these guys may be free of aluminum, they've replaced it with something even worse, triclosan – an ingredient that Environment Canada is in the middle of officially labeling a "toxin" and is voluntarily asking companies to remove. Lots of other deodorants have switched to triclosan's slightly less evil cousin, triclocarban. N
HERBALIX
Luckily they sell these in small sample sizes too so I didn't need to waste money on a whole stick. Great ingredients, high in organics but definitely not a winner. NN
LAVILIN BIO
The original Lavilin used to promise an end to odours for up to 7 days and always creeped me out. But when they came out with their "bio" underarm/foot version promising 48 then 72 hours of protection I decided to give it a try. The label said to give it several days before expecting it to work. Well, I made it day 4 of use and could not bear to subject the guests at my friend's wedding to the horrors this stuff was triggering under my arms so I put an end to the Lavilin experiment. NN
ARM & HAMMER ADVANCE
If you're still using A&H's Natural Essentials, beware, it gets its stink-fighting power from official enviro toxin, endocrine-disrupting triclosan. South of the border, a class action lawsuit was actually launched in 2012 for misleading natural labeling. However, in Canada, the product has been phased out – possibly because the feds are declaring this ingredient toxic. It's been replaced with Arm & Hammer Advance, which, while it does contain petrochemicals and artificial fragrance, does actually rely on baking soda (go figure) to get the job done. Haven't tested it myself to see if it works because it's still too synthy.
Score: NN
ALSO IN THIS WEEK'S ISSUE…PREGNANT PAUSE: UK DOCS WARN PREGNANT MOMS AGAINST HOUSEHOLD CHEMS, oil spill news, pollution tool kit, and Harper's greenwashed action ads.