Solar power: putting natural sunscreens to the test
July 19, 2012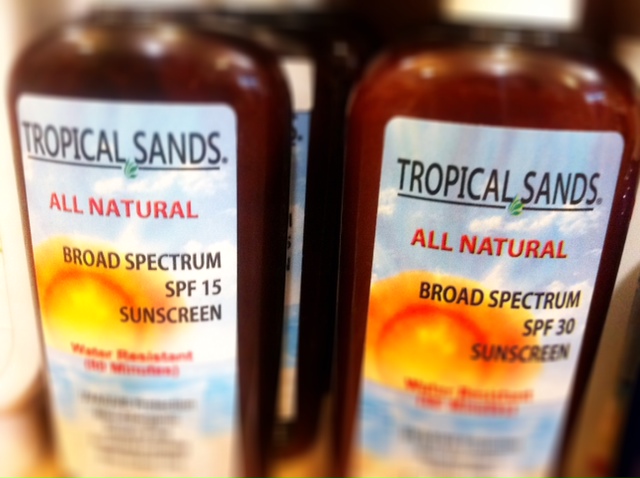 I've never been a big sunscreen lover. Correction: I was a sunscreen preacher forcing it on friend and foe until I went backpacking in Brazil at 18 and started, in vein, trying to blend in with the Ipanemans. Of course, now that my face is starting to show the wear and tear that comes with that type of solar affection, I no longer hop on my bike without a thin layer of the stuff slathered on me. This week's Ecoholic is all about how sunscreen affects our water supply once we jump in a lake, ocean, river or shower. But once you're on board with picking a reef-friendly, all natural sunscreen, I for one want it to get the job done without turning me into a greasy ghoul. Unfortunately, a lot of natural sunscreens leave a thin white residue – it's part of how they block the sun, as physical rather than chemical sunscreens. But the times they are a changin' and you can still have nano-technology-free mineral/physical sunscreens without turning you into Casper the Friendly Ghost.
Now, in Ecoholic Body, I have nearly 30 natural sunscreen reviews, scored out of 5. Still there are always new products on the market so I'm reviewing them here. I stopped by my neighourhood health store, the Big Carrot, recruited some help from Yana and Lucas, then brought samples home and slathered them on my partner and friend to get critiques. Here's a break down.
Badger Damascus Rose Face Sunscreen Lotion: Badger's regular body sunscreen has top of the line eco ingredients but is super thick and whitening on anyone that isn't porcelain-skinned. I'm happy to report their new face sunscreen rocks! Light 'n lovely texture with beautiful rose scent. Makes for a rich SPF moisturizer that I'd gladly slather on my face in dryer months. Women with dry skin will love this, but does get a little stuck in thick stubble, so won't necessarily win over all men. 4 .5/5
Consonant Matte Finish: This premium product is made by Toronto's own Consonant. If you're looking for a facial moisturizer with a matte finish, this should win you over. It's light, scentless and vanishes without visible white residue. 4.5/5
Coola Sport: Be careful – some Coola products use chemical sunscreens and even some of their mineral sunscreens contain cyclopentasiloxane. Shame. However, their Sport SPF 30 Citrus Mimoza doesn't and is a great water-resistant option. The product does seem to separate a lot in the heat though, which is annoying. 4/5
Devita: Still my all time fave for beautiful lightness of texture without being oily so I'm including it here. Basically feels like a whipped moisturizer and leaves zero residue. My only critique is it has no water-resistance at all so you can lose out on protection once you break out into a full sweat. Old formula contained retinol so make sure you're not buying old stock. 5/5
Eco Logical: Definitely on the thicker side but didn't leave residue on brown skin or hair IF you rub it really, really well. Takes some patience but decent product. Too bad they short change you by giving you a larger tube that's half empty. Not very eco of them. 3/5
Green Beaver Spray: As I say in the book, these guys were among the first to offer absolutely zero white residue organic protection but they got a lot of complaints that they were way too greasy. Their new formula is a little lighter and comes in spray, face, kids formats BUT is still greasier than others and considering the current competition I'm demoting it from a 5/5.  Nonetheless, greasiness offers it more water/sweat resistance and it's Canadian-made, certified organic: 4.5/5
Goddess Garden Spray: I gave this one high scores in Ecoholic Body but since they reformulated to improve its texture and now offer a spray version, figured I'd try it again. It is milkier now and isn't oily like Green Beaver, which many love. It worked well enough on pasty, hairy white guys, fine on a half Greek girl (me), not so good on darker complexions (left major white residue on Yana). Used to give this a 4.5 but considering the competition, I'd drop that by half a point. 4/5
Kabana by Green Screen: I can't stand Green Screen's regular sunscreen and their Kabana line is no different. Actually it's worse. Reactions from friends included: "ugh" and "I hate this." Matted in body hair in a really creepy way. I'll spare you the pictures. 1/5
Tropical Sands: I gave this 3 thumbs up in Ecoholic Body and am including it again here since it's the most economical for its size of all the eco sunscreens. Light and watery. Disappeared on brown skin but turned boyfriend a little purple at first. Takes a lot of rubbing to get rid of residue but good value. 3/5  $(cheapest)
True: I had a lot of hope for this American newbie and I do like the light vanilla scent in the body version but even the face sunscreen is quite sticky and got matted on the boys. Turned them purple. Fine if you're hairless. No big white residue on me or browner skin. 2.5/5
For LOTS more sunscreen reviews, pick up a copy of Ecoholic Body, in bookstores everywhere.