The dirt on dirt. Organic claims in garden centres & more
May 29, 2013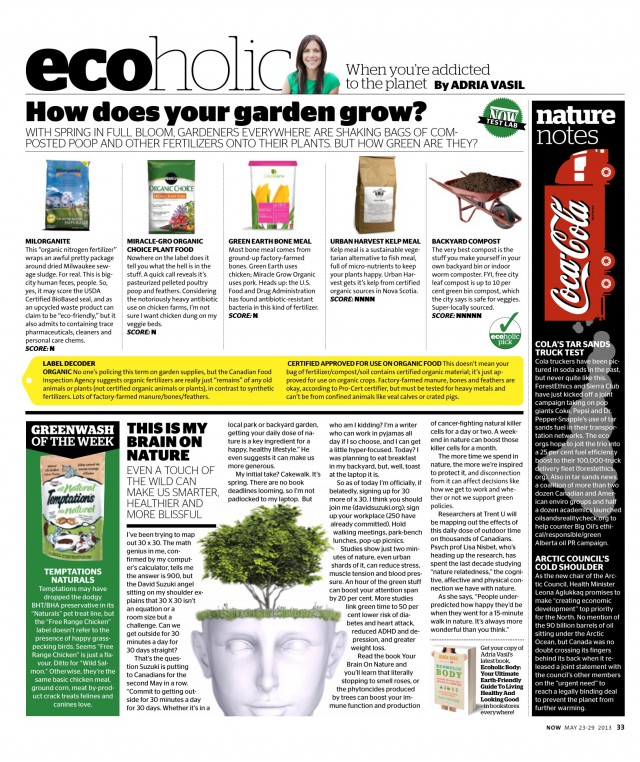 You'll spot the word 'organic' so often in garden centres you'd think you'd died and gone to Whole Foods. Alas, the word organic means something totally different in the gardening context. It basically means "organic matter" – typically anything composted/decaying like manure. Sounds benign enough – except when you stop to think 'ugh, wait, do I really want antibiotic-laced chicken poop on my veggies?' Cow manure doesn't come from idyllic pastures either but often from intensive, confinement-heavy factory farming operations.  Ditto for bonemeal and bloodmeal.
What about garden products certified for use on organic food? That's got to be better, no? I wish I could rule out that it came from factory farms, but alas that's
not in the rule book, according to the certifier I spoke with (Pro-cert). Why can't we just get poop from certified organic farms? Turns out there's not enough to go around. So basically that composted manure can come from any old farm, but not ones where animals can't turn around 360 and are kept in the dark (poor baby veal). Those are both very good things but still push for details. Pefferlaw Organic garden products say their products don't come from "intensive farming operations." Their "certified organic compost" (left) comes from horse manure and composted bog vegetation.
In the meantime, for more from the Ecoholic test guide to fertilizers,  Greenwash of the Week (All Natural Temptations!), Nature Notes on the big cola oil sands campaign, and my piece on the David Suzuki 30×30 Nature Challenge, read on.