Axing tropical patio sets and greening your deck
July 10, 2008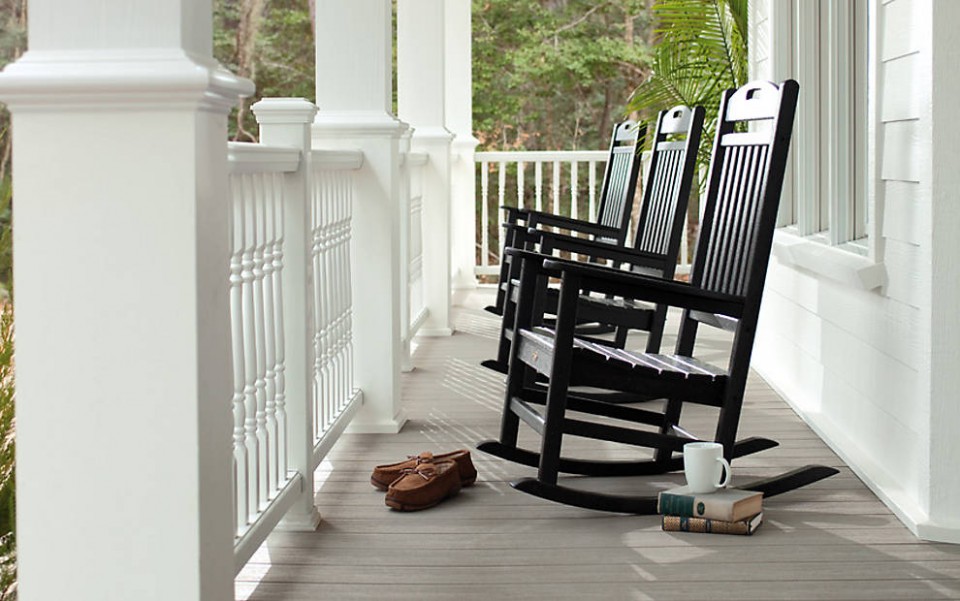 Q: I need new patio furniture. Are there more eco-friendly choices around these days?
A: Let me guess. Your old plastic patio furniture has collapsed on you, has it? Now, I hate to say I told you so, but that cheap vinyl stuff is not only toxic to produce, but lasts about as long as a Hannah Montana crush.
Ask around to see if anyone's carrying eco patio furniture and you're bound to be told, "Yes, we've got plantation teak."
That's when my back goes up. Exo­tic wood – not just teak, but old-growth woods like nyatoh and ipe – brings you into dodgy, dodgy territory. According to Rainforest Action Network, at least 75 per cent of logging in Indonesia's rainforests is illegal.
And Indonesian plantation teak is often from 200-year-old, rich second-growth forest. Word from New York-based forestry watchdog Rainforest Relief is that Indonesia is starting to run low on teak and is now slyly importing Burma's disappearing trees. Too bad most manufacturers aren't keen on the quality of teak from Central America's much more sustainable (though much younger) plantations.
Even a Forest Stewardship Council label, says Rainforest Relief director Tim Keating, won't guarantee a tropical table that's old-growth-free. So Pot­tery Barn's swank FSC-certified nya­toh Chesapeake patio furniture might come from better-managed sources, but Keating says all Asian nyatoh is old growth and should be off limits.
So who gets the thumbs-up from Rainforest Relief? If you're willing to shop cross-border, Crate and Barrel's got some old-growth-free FSC-certified stuff. Closer to home, Ikea gets kudos for having pretty solid forestry policies.
Really, the safest wood is the reclaimed kind. If you've got padded pockets, check out Maku's slick reclaimed teak lawn furnishings (makufurniture.com).
Want to talk Rs? Canada's got lots of recycled plastic patio furniture, but it's mostly centred around the Muskoka chair theme. (Indoors and Out on Yonge near Davisville has chairs, footstools and end tables.) Taylors (taylorsplastic.com) carries a few more styles of patio dining sets, benches, lounge chairs, planters and loveseats. You'll find even more at polywoodinc.com.
Your very greenest bet is always the second-hand route. Craigslist is rammed with pre-?loved patio sets of all shapes and sizes, including some in wrought iron and, yes, teak.
Q: I'm looking to redo my deck and am unsure which is the best option: plastic, wood or concrete?
A: Cracking open a beer mid-heatwave is just not the same if you don't have a deck to do it on. According to my count, I spent hundreds of dollars a summer patio-hopping because I had no deck.
Of course, once you have your own, you end up spending those savings on, well, decking it out. Which brings us to your dilemma.
If your wooden deck or fencing was made with pressure treated wood pre-2004, chances are high it's made with arsenic-treated wood. That greeny-tinged stuff is no longer allowed to be sold directly to consumers. Although, to make things more confusing, newer kinds of arsenic-free pressure treated woods were also initially tinted green.  You can opt to reseal with a sealant (not a paint that will flake off) every six months or so. Or you may want to rip it out and start fresh. Especially if kids are playing on it a lot. Turns out arsenic-treated wood does leach, particularly into sandy soil and when exposed to sunlight. No good.
So what are your options?Just as with furniture, Canada's big on making decking and fencing with recycled plastic. It sort of looks like wood (complete with faux wood grain), and you'll never have to worry about rot, termites, carpenter ants or refinishing the bloody thing.
Trex (trex.com) makes fencing, decking, railings and benches from 1.5 billion recycled plastic grocery bags a year mixed with waste wood. Both Home Depot and Lowe's carry Trex products.
If you want something more locally sourced/mom-'n'-pop, look for Renew Resources' Scarborough-made recycled deck tiles or Cascades' Quebec-made decking systems.
Not down with plastic? Again, beware of tropical wood, since it's hard to guarantee it's old-growth-free.
Better to get FSC-certified eucalyptus deck tiles, since eucalyptus is fairly fast-growing and far greener than the tropical stuff, says Rainforest Relief.
Update: MicroPro Sienna says it's the "first and only" pressure treated wood to be certified as an Environmentally Preferable Product (EPP), by Scientific Certification Systems (SCS), based on Life-Cycle Assessment. The way it's made is said to minimize copper releases into surrounding soil by up to 99 per cent. But like with all pressure treated wood, don't burn it when you're done with it – and wear a dust mask, goggles and gloves when sanding the wood (note: you never want to sand old arsenic-treated wood)
If you're on a budget, cheap, locally made concrete patio stones might be tempting, but concrete isn't particularly eco-friendly to make. It's actually one of the single most greenhouse-gas-intensive industries in the world. However, it doesn't leach and it is durable.
Flagstone slabs (often sourced lo­cal­ly and extremely durable) are a little greener because they don't go through the same energy-intensive pro­cessing. But you're still demolishing mountains to get them, according to Gravel Watch Ontario.
Creative Bob Villa types would be smarter to whip up a deck with recycled lumber from Habitat for Humanity's ReStores (torontorestores.com). Or scour for well-certified sources of good ol' Canadian wood (certifiedwoodsearch.org).
When it comes to sealing it or any of your outdoor wood­en stuff, stay away from anything with a poison sign on it. I use Hempola's All Natural Wood Finishing Oil on my outdoor chairs, and they look great, but it isn't a heavy sealant.
Plant – and mineral-based Lifetime Wood Treatment is used on marinas, houses and decks, and according to the company, it doesn't fade or need re?staining. (Special-order it through Home Hardware stores.)
AFM Safecoat (afmsafecoat.com) makes some respected low-toxicity stains and sealers. Update: I ordered some good wood sealants from Eco Building Resource when I was sealing my sectional made from upcycled shipping pallets.  Then you can seal the deal without smogging everything up.