Can Loop's 21st century milkman fix plastic plague?
February 10, 2019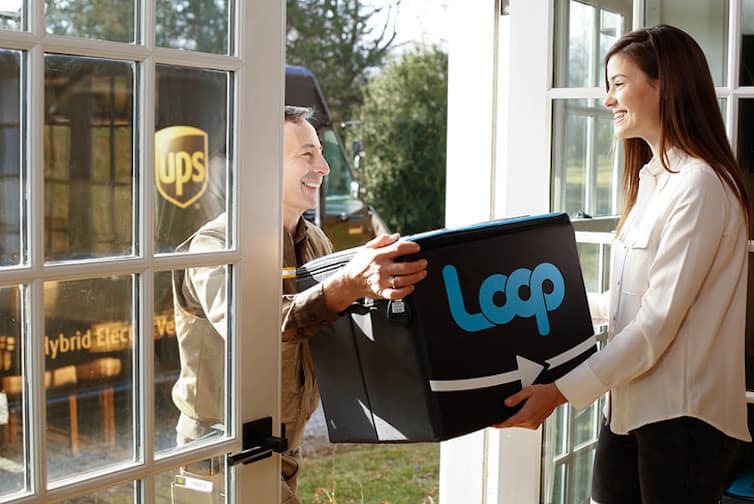 Remember the sea turtle with a straw fused up its nose? The viral image that broke your heart and made you swear off straws? There's more. On February 4, the UK's RSPCA released the latest round of disturbing photos of wildlife – maimed seals, ducks, deer, even cats – ensnared in plastic bags, bottles and other snaggy remnants of our disposable economy. A flurry of British media headlines cut to the chase: record numbers of animals are killed or injured by plastic.
It doesn't take a PR insider to tell you that new reports of wildlife injured by plastic litter are sure to get packaged goods makers biting their nails and bracing for impact. With public outrage over disposable plastics growing steadily, major international brands have been under heavy pressure to rethink their packaging models. Over the last few months, the world's largest consumer goods makers and sellers responded by announcing some surprisingly aggressive waste reduction targets. With some cajoling from the UK-based Ellen MacArthur Foundation, roughly 300 major corporations responsible for 20 per cent of the planet's plastic packaging, including Unilever, Colgate, SC Johnson, H&M, PepsiCo and Coca-Cola, signed onto a "new plastics economy" commitment. They've vowed to make sure all their plastic packaging is either recyclable, compostable or reusable by 2025.
The targets are impressive. They're also, as shareholder advocacy group As You Sow noted, aspirational. Making your plastic packaging recyclable is one thing. Making sure it all gets recycled is another, particularly with global recycling infrastructure in a free fall, as China and now Malaysia and soon Vietnam shut their doors to the planet's less desirable recycling scraps. (Not to mention that 90 per cent of plastic is never shipped off to be recycled to begin with, regardless of whether it's technically recyclable). Compostable packaging targets get messy, too, when you consider that many cities with curbside composting, such as Toronto, reject most certified compostable packaging (like, say, compostable coffee pods) in their green bins because they're, in a nutshell, not compatible with their systems.
That leaves the most meaningful option – and the gateway to a truly circular economy – behind door number three: reusable. Deposit return systems on refillable drink containers, including beer or milk bottles, have been the golden child of the circular economy since, well, the golden era of the milkman. Other circular economy darlings have usually been limited to companies that make products that can be taken back and/or and refurbished, like an old Patagonia coat. The idea has never really gained traction with the make 'n toss packaged good set – until now.
Enter Loop's new "circular shopping platform" – heralded as the 21st century milkman. But instead of a milk truck, your friendly neighbourhood UPS driver will be tasked with dropping off (and picking up) a leak-proof reusable LOOP box filled with an array of popular brands like Pantene, Tide, Seventh Generation, Dove, Tropicana, Nature's Path, Body Shop and more so people can get everything from mayonnaise to deodorant in branded stainless steel, glass and refillable plastic containers – all within 48 hours of ordering.
Once you're done, call UPS for pick-up and the containers will be returned to Loop for sanitation then to manufacturers for refill. It's a conscious consumer's dream.
It also sounds like a lot of greenhouse gas-intensive shipping. TerraCycle, the company behind Loop has said it's calculated the total impact of its shopping platform and says that, overall, Loop products are 50 to 75 per cent better for the environment than conventional alternatives.
Usman Valiante has his doubts. The senior policy analyst with Corporate Policy Group LLP has been involved in rolling out producer take-back initiatives in B.C. and Ontario and cautions that early carbon footprint estimates often miss the mark: "If you look at the greenhouse gas footprint of Amazon, online shop was supposed to reduce the amount of truck trips, when it's actually done the opposite." It would be "fine, if the entire transportation system ran on renewable energy," says Valiante. "But it's not."
Loop has argued that while it might add more delivery trucks to the road, it's system will ultimately involve fewer garbage trucks. It also plans to break into brick-and-mortar retail outlets in the future. Loop's real world GHG numbers will be crunched further during its trial run in New York and Paris starting this May. If all goes well, Loop trials will be coming to Toronto, Tokyo, San Fran and London next to much fanfare.
Many of Loop's early brand partners could no doubt use some good press. Coco-Cola, Proctor & Gamble, Unilever, Nestle, Mars, Clorox, Mondelēz have all been slammed by Greenpeace as the world's largest contributors to the ocean plastic crisis. Their branded packaging has been turning up in Greenpeace ocean trash audits from Asia to Canada. It's actually why Loop's creator, Toronto-raised and Jersey-headquartered Tom Szaky reportedly pitched those brands first…