Greenspiration: the top 10 most encouraging eco stories of 2015
December 23, 2015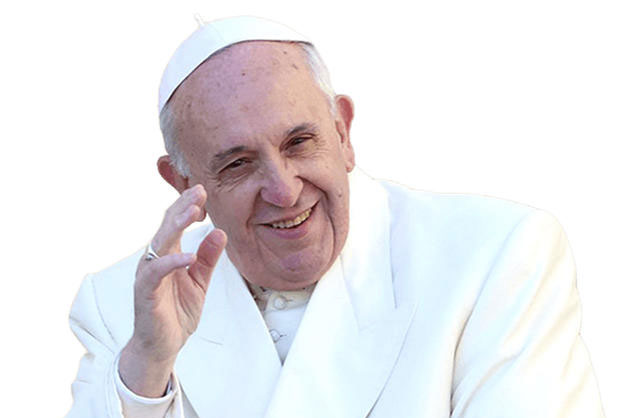 Planet lovers aren't always an optimistic bunch, but there's reason to pause and appreciate this year's many highs on the environmental front.
The most consciousness-shifting moment of the year: pope Francis's 40,000-word treatise Laudato Si': On Care For Our Common Home. He urged the planet's 1.25 billion Catholics as well as world leaders and the rest of us to start recognizing that "nature cannot be regarded as something separate from ourselves" and that the lifestyles of 20 per cent are literally killing the planet's poorest. The Pope, named after the patron saint of ecology, called for action on climate justice, but at the heart of it all was a plea to love one another as a civic and political act.
Seeing the politician who shredded this country's enviro regs turfed was undeniably one of the brightest turning points of the year for a long-beleaguered green movement. A newfound optimism was cemented by a key shift in the political landscape: new PM Justin Trudeau brought in a climate-friendly cabinet with an empowering environmental mandate.
In the face of a planet on the brink, a big-tent climate coalition of aboriginal leaders, environmentalists, labour unions, racial justice, women's and poverty groups linked arms to give birth to a broader climate justice movement. In Canada, the celebrity-backed Leap Manifesto spelled out the movement's demands for a transition to a fair, green economy. These were echoed by tens of thousands in marches in Quebec, Toronto, Ottawa and some three quarters of a million people in the streets of 175 countries November 29.
Yes, the historic climate deal signed by 195 countries falls short and likely won't keep us to 1.5° warming, but they signed it (unlike the Copenhagen fiasco of 09). And as Green Party leader Elizabeth May says "it does more than many of us expected it would when the conference opened… it threw us a lifeline" that may save millions of lives. The pledge to keep ramping up greenhouse gas emission targets every five years is critical. And the call to go carbon neutral in the second half of the century signals the end of the fossil fuel era, says Al Gore. Don't look now, but hundreds of cities (like Vancouver and San Diego) and big-money corporations (like Walmart, Starbucks, Unilever, Nike) have already vowed to go 100 per cent renewable.
When Royal Dutch Shell got the green light for exploratory drilling in the Alaskan waters of the Chukchi Sea, Greenpeace and friends took to kayaks and canoes and rappelled off bridges to stop the drilling. This fall, Shell announced it would "cease further exploration activity in offshore Alaska for the foreseeable future." More Arctic relief in 2015: Imperial Oil, BP and Chevron all announced they're putting plans to drill in the Beaufort Sea on hold. Woot woot.
In its early days, the divestment movement was just a handful of students pressuring universities to dump fossil fuel holdings. Then churches and cities got on board, then billion-dollar investment funds. These days, former Bank of Canada governor Mark Carney is warning investors of the "huge" risks of sinking cash into fossil fuels. And more than 400 institutions, including the Canadian Medical Association, have collectively pledged to divest $2.6 trillion from oil and gas – a 50-fold increase over last year. Word on the street is University of Toronto may be next.
Good news for the Great Lakes. The backlash against the little plastic waterway-chokers known as microbeads hit like a tidal wave. South of the border, cities, states and now Congress have moved to ban them in soaps, toothpaste and body care items. Environment Canada followed suit by announcing this past summer that it plans to list microbeads as officially toxic. Now we just need the feds to run with a ban – and like California, outlaw allegedly "biodegradable" plastic microbeads, too.
Albertans shocked the nation when the long-time Conservative province elected an NDP government last spring. Jaws dropped again when Premier Rachel Notley announced a coal phase-out, an economy-wide carbon tax and a 100-megaton cap on oil sands emissions, which means millions, if not billions of barrels of oil will have to stay in the ground. The NDP government managed to get four major oil companies to endorse the idea, albeit the ones hoping to be sitting on the last chairs when the music stops and the carbon cap comes into effect. A big deal no matter how you slice it.
Enviros are praising the provincial Libs for passage of the Great Lakes Protection Act and an anti-SLAPP (strategic lawsuit against public participation) bill. The province also officially banned any future coal plants, so the next government can't revive them the way Germany did. But their biggest move is putting a price on carbon. Details are still in the works, but the cap and trade scheme proposed means 86 per cent of Canada's economy has now committed to putting a price on carbon.
The environment can be a divisive issue – just try to bring it up with your grumpy uncle over the holidays – but David Suzuki argues we can all agree that clean air, water and food are essential to our very survival. More than 110 countries have signed an environmental bill of rights, so why not us? That question has sparked 100 municipalities (T.O. included) to sign declarations. The game plan is to get the provinces on board next (Manitoba's already down) and then the feds. If we can embed the right to a healthy environment in the Charter, says Suzuki, "it changes the whole game."