One earth, one family: why I'm marching for people and the planet this weekend
July 2, 2015
Somewhere on a small island in southern Greece I have a cousin, twice removed, that's a retired Orthodox priest. That's about as close to organized religion as I've ever gotten. That and the occasional church wedding or funeral. Though after reading the Pope's encyclical on caring for our common home, I'm tempted to find a pew somewhere and give thanks to the man for issuing a global planetary wake up call like no other. For reminding us that "never have we so hurt and mistreated our common home as we have in the last 200 years," that "nature cannot be regarded as something separate from ourselves" and that we have a "shared responsibility for each other and the world." Last weekend, thousands of Christians, Muslims, Jews, Sikhs and Hindus responded with the One Earth, One Human Family march in Rome (that's where this pic was snapped), in solidarity with the Pope's call for climate action. Because he's right, we do have a moral obligation to act on climate change – to stand up in global solidarity and be responsible stewards of the planet and each other. Which is why I'm going to be joining this weekend march for jobs, justice and the climate.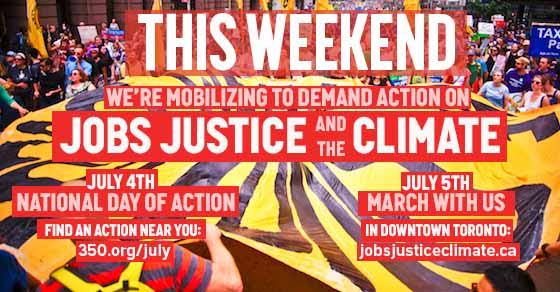 What's it all about? We know Canada needs a new economy that works for people and the planet. If we're going to transition to a green economy, it should be a fair one. As the organizers say, "From Alberta to the coasts, Canada is ready for an economy that creates good jobs for all, protects the air, land and water and tackles climate change." David Suzuki, Naomi Klein, Bill McKibben, Stephen Lewis, Maude Barlow and Jane Fonda will there sharing their voices on this issue along with labour unions representing Alberta oil workers, First Nations on the front lines of extraction projects, health care workers, scientists, faith groups, anti-poverty groups, kids, parents, grandparents – and hopefully you.
The Toronto march happens Sunday. If you're not near Toronto, there'll be solidarity events all across the country on July 4 in in Yellowknife, Vancouver, Nanaimo, Nelson, Edmonton, Saskatoon, Prince Albert, Winnipeg, Thunderbay, Kenora, Quebec Cty, Hudson, Lac Megantic, Amqui, Annapololis Royal, Fredericton, St Johns, NL.  Don't be shy, join them – even if you've never joined a march before – especially if you've never joined a march before!  For more info 350.org/july.
I'll be writing about the whole day too, so stay tuned for that.
In the meantime, check out this video from the march organizers and get inspired.
As the Dalai Lama said succinctly at Glastonbury music fest last week: "We have to say more. We have to make some effort, including demonstrations – non-violent way."
See you there! xoAdria
PS If you can't be at an event in person, show your support for the climate action on social media and in person with family, friends, neighbours  – and your elected politicians!