Back 2 school special: avoiding toxin-laced school supplies
August 29, 2012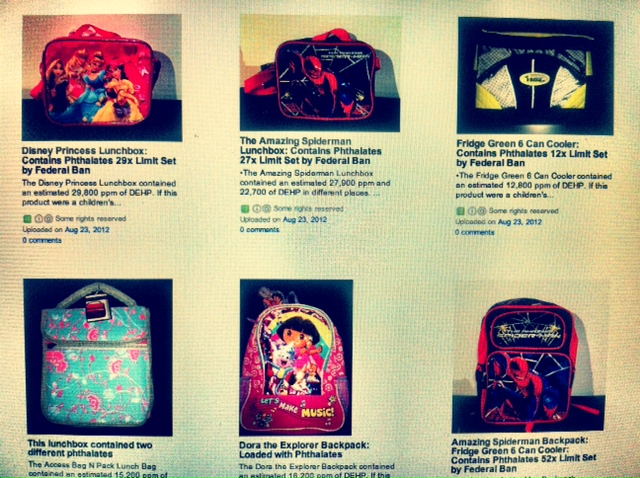 I don't know about you, but I was always a chewer. Whether I was 5 years old or 15, I always ended up gnawing on my erasers/pencils/necklace charms, you name it, while daydreaming or stressing out in class. Not like some kids who nearly ate the things like apples but, no doubt, enough to take in a dose of whatever toxins were in there. And trust me, there were plenty.
California's Center for Health, Environment and Justice recently sampled 20 vinyl backpacks, lunch bags, 3-ring binders, rain boots and rain coats for their report Hidden Hazards: Toxic Chemicals Inside Children's Vinyl Back-to-School Supplies and the news wasn't good.  Turns out 75% of the vinyl school supplies contained hormone-disrupting phthalates at levels that would be illegal in children's toys. Alarming numbers. Time to tell our MPs to extend phthalate regs so they apply to school supplies.
If you're looking to avoid the dodgy onslaught of plastics in school supplies, stay away from PVC/vinyl like the plague. It's often shiny and a little squishy (since it's been softened with phthalates). Buffalo Natur offers up all kinds of cool stuff from colourful jute backpacks/lunch bags/laptop sleeves to recycled erasers/calculators/coloured pencils, a lot of which are available from Grassroots and a you'll find a little at Canadian Tire (Buffalo Natur says you'll soon be able to shop on their site too, so check back in a few weeks). For younger kids, Skip Hop school bags aren't made of natural or recycled fibres but they are ridiculously cute and BPA-, phthalate-, and PVC-free since they're made of nylon (see the store locator). Older students can find all sorts of cool back packs made  out of recycled fibres via Onsight Equipment, House of Marley, and from Mountainsmith (via Amazon).
For more tips on going back to school the eco way, check out this Canadian Press article with me and my pal Gill Deacon – hot off the presses.