Book review: This Can Be Beautiful
October 13, 2016

Wherever you first meet Tiffany Pratt – on Instagram, on TV, in the pages of this book or in person – you know a burst of magic has just entered your life. It's as if you cracked a window and a luminescent gust of glitter blew in on a warm wind then your fairy god-BFF appeared spreading joy, inspiration and creative mojo. That's how I felt when we first met at my Ecoholic Body book launch back in 2012 and that's how I've felt every day of our friendship since. I'm lucky to now call her one of my nearest and dearest friends, a true soul sister. And I can tell you first hand the woman really is a walking beam of love and light who'd drive up onto a sidewalk just to bowl you over with a bear hug (that officially happened the second time we met). But what makes her really shine is she's got a way of showing you that you are just as beautiful and sparkly inside and out – and that even the least creatively inclined among us are brimming with secret talents. Tiff's real gift is bringing out the magic in all of us. And guess what? That's exactly what her new book, This Can Be Beautiful is all about!
As a green girl, I love that she teaches us that we don't have to run out and buy all new things to beautify our lives. There's so much potential hidden in the stuff we already own, whether it's an old forlorn pair of jeans that she inspired you to cut up into a fresh fashion staple or fraying sheets transformed into tie-dyed boho bedding or a one-of-a kind pillow case clutch.  And I swear you'll never cast off a cardboard toilet paper roll again without whispering her mantra: this can be beautiful. Okay, at first you may hang a question mark at the end of that phrase (as in, 'Really? These toilet paper rolls, too?'). But once you try some of Tiff's TCBB projects yourself you'll really find her religion, that Beauty is everywhere. Greet the world with love, curiosity and a wide-open heart and you'll see it, too. (FYI, she turns those cardboard TP rolls into killer cuffs.)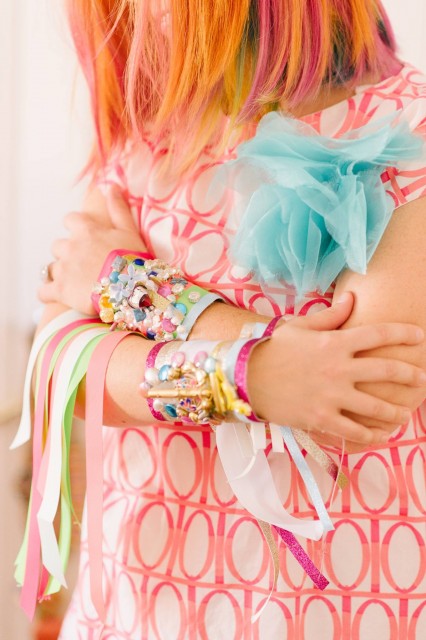 Part DIY goddess, part design empress, part spiritual messenger, Tiffany guides us all to find inner peace in homemade bath salts, meditation in scrap fabric cutting and gratitude in everything you do. Because that's her special sauce. She's also foot-stompingly hilarious and a master at making us all lighten up and play. So don't get antsy if you can't find precise step-by-step instructions in here. She wants you to goof around, dance, paint, trust, let go and whip up your own gorgeously unique thang. Just a heads up: this mantra is contagious. You'll find you start bringing that TCBB energy to other objects, spaces, places and relationships in your life. I know, thanks to Tiffany's inspiration, I have. She even waved her fairy godmother wand in my living room and found a way to make my clutter-loving ways feel light, airy and gorgeously fresh. And she sexed up my boring old rain barrel. Yes, she did. It's blue ombre now. She's got my sprinkling cinnamon on my head, too (check out her dry shampoo recipe).
I'll tell you one thing: this woman makes you believe in magic. So, I'm serious, people. Run to the nearest book store or jump online and get yourself a copy of this beautiful book! It'll inspire you like you've never been inspired before. Personally, I think I'm going to make her vintage pillow case clutch next.