Lakefront lather: Sudsing up safely, waterside
August 10, 2012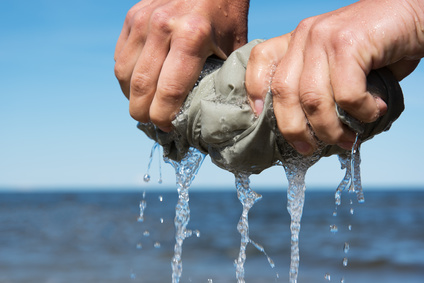 Two of my girlfriends were heading up north for a week of camping adventure. Neither had any real camping experience. When I asked one if she was bringing up essentials like camping cookware, a water filter, a basin for washing dishes away from the lake and heard, "um, no, nope, no," I thought, 1) these girls need some help in a hurry and 2) man, a lot of toxic dishsoap must get lathered into lakes this time of year.
Days later I got a question from a reader, Laura, worried about what happens when we dump phosphates and other cleaning and bodycare chemicals directly into our lakes at cottages and the like. For my answer, check out this week's Ecoholic column. It goes hand in hand with last month's column on lake-/river-/ocean-safe sunscreens. A couple things I didn't have room to mention in the column: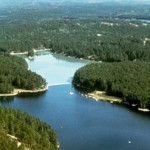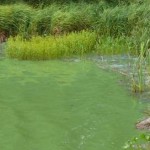 1) Sadly, the Harper government recently cut off funding for super important Experimental Lakes Area research, which tested the impact of all sorts of stuff on 58 real lakes in northern Ontario, including the impact of phosphorus on lakes. The ELA research actually pushed the government to start limiting phosphate pollution decades ago. (This ELA picture – left – of a lake divided for research is a snapshot of what happens to lakes when loaded with too many nutrients like phosphorus. Right is a real example of a lake smothered in toxic algae thanks to phosphorus overload). Please take a moment to sign the Save the Experimental Lakes Area petition here.
2) The newest federal regs limiting lake-chocking phosphates from cleaning products are way tougher on household products. Restaurants and industry can still use cleaners that contain over 2% phosphates. Not good enough!
3) Never, ever, ever use antibacterial products at the lake…or anywhere for that matter. Triclosan is now officially classified as "a danger to the environment," plus it's bad for your septic.
4) For more tips on greening cottages, read Is Your Cottage A Lakefront Menace or Earthly Paradise? 
How To Wash Dishes When Camping (without poisoning the fishies)

Boil water to kill off any giardia/Beaver Fever that may be floating in lake water
Scrape off any food bits and pack 'em up to take back home for composting (no need to leave food for the bears).
Plain hot water should be good enough for cleaning plates but if you need soap on greasy pots, do it 200 feet from shore, dig a whole six to eight inches deep to dump dish water in and make sure your soap is biodegradable like CampSuds or Nature Clean Dishwashing Liquid.