I'm Dreaming of a Green Xmas: One of Kind Show (part 1)
November 27, 2012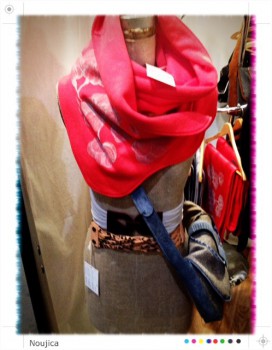 If you've been anywhere near a mall or retail store of any kind lately, you know the holiday gift buying season is upon us and quickly escalating in frenzy-factor. My family isn't big into holiday gift swapping (you should have seen the eye-rolling I got from my siblings when I suggested we at least make each other
DIY stuff –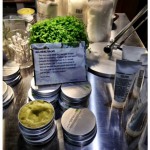 I think the accompanying quote was, "That's easy for you to say!"). Regardless, I still make a point of going to the One of A Kind Show every year (twice a year actually). I call it "work" (scoping for green artisans), but I also get to sneak in a few prezzies for, well, me, on the side. If you live in TO, Van City or Chicago you know the OOAKS is loaded with handmade, sustainably goodness.  If you're expecting a lot of wood carved ornaments and fruit cakes, well, those are there, but it ain't all crafts, sugar. I thought I'd give you a tour of some of the countless green retailers I stumbled upon in Part One of my OOAKS tour.
First of all, the places is loaded with some of my favourite eco clothing designers featured in Ecoholic Body like Atelier B, Lilikoi Clothing, eco plus size darling Chloe Angus and snuggly organic PJs by Schoolyard Studio. (All way better gift options than hitting Jacob or H&M!). I just happened score myself an awesome upcycled sweater dress from Susan Harris Design (pictured right, squeezed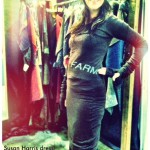 over my pants/ shirt!).  On the accessory front, one of my fave scarf/belt designers is Noujica (top/left) and the recycled leather queens at Cokluch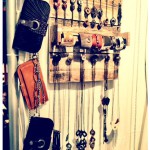 are awesome for scrap leather earrings, mitts and way more (left). Speaking of jewellery, Billy Would Designs, also in Ecoholic Body, does great reclaimed wood stuff. Met upcycled bag maker Mined reCreations,
which will even do custom work with your old letter jacket/grandmother's old wedding dress/dad's fave blanket you name it (right).
Then there's fab all natural bodycare like Matter Company (top right) and DaLish Cosmetics (FYI, the portable lip/cheek tints have serious staying power!).
And tons of other random/useful goodness, like The reCycler's clocks and candlesticks made from old bike parts, Abeego's awesome beeswax cling wrap and so so much more. So much so that I didn't have time see the whole show in the time I had. So I'm going back in…look out for part 2 for more sustainable, green brands/gift ideas.