I'm Dreaming of a Sweatshop-Free Xmas: Craft Show Cruisin'
November 30, 2012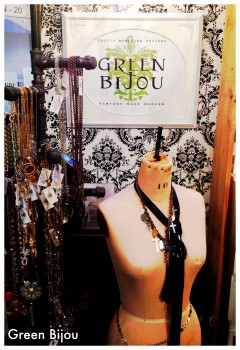 I love a good craft show. I don't care if it's in a church basement, a community hall or a convention centre. They're the most charming FU to shoddily made, sweatshop-manufacturing, in my opinion. And the One of a Kind Show is really the mother of all seasonal craft shows. The place is so big, it's sort of like the gifters version of a 5K run. Except on my 5 k, I decided to break half way through and go back in the next day. As promised, I'm reporting back on day 2 of my green finds with all Canadian-made goodies. And let me tell you, I was swamped. So much good green stuff out there!
First off, let me say, that this week's column in NOW is all about Canadian made toys and I'm happy to report that, yes, they exist. Just inquire at your local independent toy shop/craft show. I stumbled on the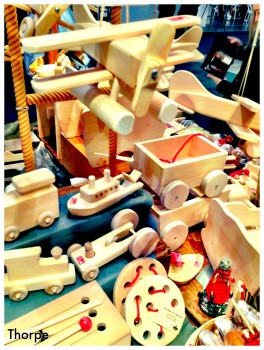 maker of Ontario-carved and crafted Thorpe Toys at the show, making really sweet nontoxic planes, trains and games out of wood leftover from large woodworkers that would have otherwise gone to waste (right). Same goes for Gander & Goose. Cate and Levi's stuffed sweater animals are always a winner and I love Fidoodle's DIY creature kits and organic cotton/hemp/wool felt flip dolls that turn into butterflies. Adorable. Plus there was a flutter of ethical baby onesies and blankies by indies like Bamboo Lily (who uses certified organic bamboo/cotton).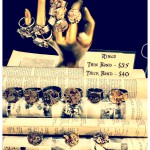 Now for my kind of toys: jewellery. Honestly, people, there's no reason to hit a Birks when there are so many original jewellery makers in this country making one of a kind creations with recycled bit and pieces. On day two, I caught up with antique collector-turned statement piece jewellery designer Tricia at Green Bijou (top, left) and fawned over Overman's gorgeous, budget-friendly pieces with recycled watch parts (left; I own one of his necklaces myself and came oh so close to buying another).
In the 'Bypass Banana Republic and Gift A Local Sweater Instead' category, there are so many possilibites. Two of my long time faves for upcycled sweater dresses, mitts and more are People People Clothing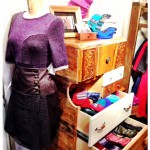 (right) and Precocious. Other green Canadian designers to peruse: Device Design Co, Voila by Andreanne, Stand Up Apparel (for Ts) and Hoi Bo, whose designer Sarra Tang and I had a great conversation about her beeswax- waxed bags, organic cotton clothes and the state of the apparel sector. Speaking of bags, Grace Design was in the house offering up pretty handbags out of vintage kimonos – her delicate aesthetic a total contrast to Quebec's Ressac sexy and sturdy purses, wallets, messenger bags made with recycled bike inner tubes. Also met Quebec's Veinage doing styly recycled leather purses and belts…oh and for belts (and pretty jewellery), check out Eco Handmade Studio's recycled glass creations.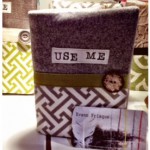 And who doesn't need a good journal for writing/doodling/dreaming? I saw two teenage girls going gaga over these new blank journals made from old books and I'm crushing on Evan Frisque's adorable Use Me journals made from reclaimed fabrics and designer offcuts (left).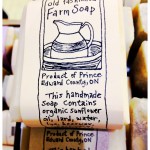 More natural bodycare abounded with brands like All Things Jill and Olive Authentique (love their essential oil home spray – gift it to Febreeze addicts). Handmade soaps galore – even found a 100-mile old fashioned farm soap made with naturally raised, er, pig fat from Honey Pie. Okay, don't give that one to non-meat eaters such as myself but it's certainly a goody for the rest of the locavores on your list and avoids the whole palm oil rainforest destruction factor.
All this to say, support your local peeps this holiday season! Head to your nearest craft show, artisanal retailer, indy vendor and ask for goods that are made in Canada (or local to wherever you live) and made green. Trust me, rumours of their demise are greatly exaggerated. (PS One of a Kind Show is on until Sunday the 2nd in Toronto and goes from Dec 6-9 in Chicago).