Postcards from the Road: Nelson
June 5, 2012
Criss-crossing the country promoting Ecoholic Body, I've gathered up a few postcards from the road. First up: beautiful Nelson, B.C. After stopping by Breakfast Television Edmonton and doing a book signing at the one-and-only Carbon Enviromental Boutique (also in eternally-sunny Edmonton) I headed for a little R' n' R in the Kootenay's (which happens to be where my sister, Lisa, and niece/Ecoholic Body-product tester, Brianne, live). The mountain town famous for its hippy vibes and statue to draft dodgers is loaded to the brim with all things eco…including a couple clothing shops featured in Ecoholic Body so I figured I'd stop by. Great shops like Still Eagle (snapped above)…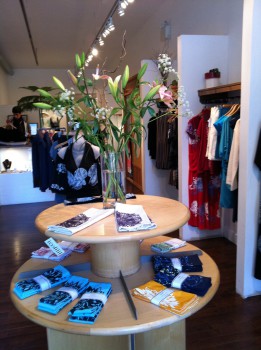 And lovely Lilikoi (left). This Nelson-based clothing line is featured in my sidebar Canada's Next Top (Role) Models: 15 Fab Green Clothing Designers. It was cool to see founder Barbara Boswell's vision come to life in this bright, airy boutique on the main drag in town.
I was eyeballing her Pollack-esque Drop Cloth purses, literally made from the drop cloths on which Lilikoi clothing are all hand-printed…very cool stuff. Like Still Eagle, you can shop at Lilikoi's online store, even if you're not lucky enough to pop into Nelson.
Plus I stumbled across new shops I hadn't yet discovered like super cute Tara Davis stuffed with upcycled accessories and crafty finds as well as Global Underground, which, while it doesn't market itself as eco, is crammed to the gills with stylin' west coast eco threads by the likes of local star Dear Pony (check out their Etsy store), new eco designs by Victoria's Floating Gold Iceberg and awesome graphic dresses and Ts by Salt Spring's Ink Spoon (these guys also do online sales). I scored a couple finds here myself.
Anyone who's been to Nelson knows leaving it is hard to do. I can see why so many expats from all over the continent now call this corner of the Kootenay's home. I'm lucky one of them is my sister. Hopefully that means I can set my eyes on Nelson's stunning lakes, rivers, beaches and valleys again soon.