Riverblue: Fashion's Deep Water Impacts
March 27, 2017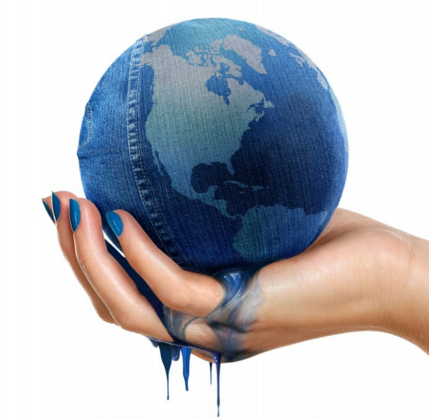 Riverblue follows an international river conservationist around the globe to map the enormous impact of one of the world's most polluting industries: fashion.  I'll be moderating a panel with two of the filmmakers behind RiverBlue as well as leading water and sustainable fashion experts at a free screening  at the WaterDocs Film Festival in Toronto. I chatted with RiverBlue director David McIlvride when the film first came out. Here's a snippet from our conversation.
Q. How dirty are our jeans exactly?
A. One day I came across a Google [satellite] map of a river that flowed into a bay that supplies water to millions in Hong Kong. The river had a large streak of indigo blue you could see from outer space. The pollution was coming from an area that billed itself as the "blue jeans capital of the world."
Nine billion pairs of jeans are made every year, in a very toxic way. We spoke with campaigners from Greenpeace who when testing the outflows near the denim towns found five heavy metals (cadmium, chromium, mercury, lead and copper) in 17 out of 21 water and sediment samples taken from throughout Xintang, a city we filmed in. Toxic campaigners in China have discovered heavy metals like manganese, which can be associated with brain damage.
Q. What was the worst of the worst amongst the rivers you visited?
A. Citarum River in Indonesia, just south of Jakarta. When we arrived, we saw the river was jammed with garbage and floating green masses of plants, and was running black. Chemicals from the textile industry, along with human sewage from bankside slums, had floated to the bottom of the river and were bubbling up like a witches caldron. The men who used to fish the river for their livelihood had resorted to going out in small dugout canoes and picking up plastic to take to recyclers. I couldn't believe that people were not only bathing and washing clothes in it, but they were also irrigating their fields with this water.
Q. You'd think if we had more reverence for nature, we'd take care of rivers better. Yet the film notes that in India the Ganges is seen as a goddess and still it's trashed. Where does that leave us?
A. The Ganges, for me, was a conundrum. I still don't understand how the people of India can revere a river to the extent they do and yet dump chemicals, dead bodies, garbage and human waste into it. By 2010 more than half of India's population had access to cellphones, while only a third had some form of toilet to use. The toxic chemicals running into the Ganges from India's tannery district were also quite depressing. Huge pipes were spewing what looked like streams of soapsuds – the by-product of chemicals used by the tannery industry.
Q. Given the explosion of disposable fast fashion, is there any hope for a less toxic fashion future?
A. I don't think we have much of a choice. The next war will not be fought over oil, but over water. I think that's a strong possibility as we keep growing in population while at the same time losing our integral water resources. The rivers are the capillaries of our planet, and we will die if we lose them to pollution.
This interview was first published in NOW Magazine.