The Dirt on Simple – is UK line as clean as it seems?
June 12, 2012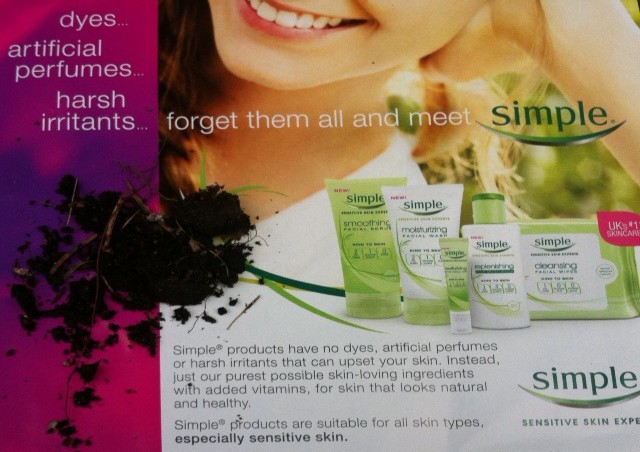 Have you seen this line of UK skincare (pretty new to Canada) that proudly advertises it's free of artificial perfumes, dyes or "harsh irritants" – Simple?  Free of fake scents is always a good thing (synthetic perfumes always lead to a long list of toxic ingredients) but that claim about "purest possible" ingredients is awful vague. Scrutinize the fine print (aka the trusty ingredient list) and lo and behond there's an awful lot of Mean 15 ingredients in their face wash. I've highlighted them in bold:
Water (Aqua, Eau), Sodium Laureth Sulfate, Decyl Glucoside,Cocamidopropyl Betaine, PEG-55 Propylene Glycol Oleate,Propylene Glycol, Panthenol, Tocopheryl Acetate, Bisabolol,Anthemis Nobilis Flower Oil, Pelargonium Graveolens Oil, Glycol Distearate, Sodium Hydroxymethylglycinate, Polyquaternium-39,Laureth-10, Cocamide MEA, Sodium Chloride, PEG-7 Glyceryl Cocoate, Disodium EDTA, Dipropylene Glycol, Methylparaben  
They may be free of irritating sodium LAURYL sulfate, but they're loaded with sodium laureth sulfate, PEGS (propylene glycol) and other -eths that are oh so commonly contaminated with carcinogen 1,4 dioxane. It's always best to stay from these away unless you know for a fact they're vacuum-stripped of the toxin. And really, parabens? Come on now. They can try harder than that. Their facial wipes even have propyl parabens banned from children's products in Denmark. When they're not using parabens, they're not shy about using formaldehyde-releasing preservatives, like DMDM hydantoin in their eye makeup remover and 2-Bromo-2-Nitropropane-1,3-Diol in their exfoliating facial wipes.
So sorry, gang, this line may be free of scents and dyes but beyond that, it definitely ain't a clean, green Mean 15-free line.