Toxin Toxout: the new brave book, the authors, and me?
January 8, 2014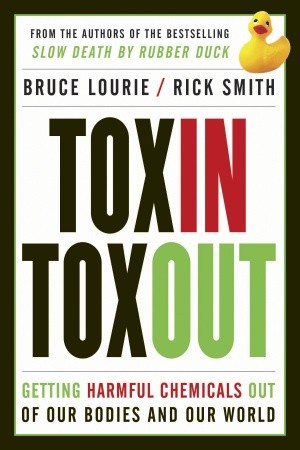 I'm a huge fan of Slow Death by Rubber Duck, the bestselling book by Rick Smith and Bruce Lourie, so when Rick called me up and asked me if he could interview me for his next tome on toxins, I was pretty pumped. We met in a sunny east end Toronto park and chatted about the rise of green consumerism along with pseudo-natural and genuinely green products for a couple hours. He also asked me if he could include an excerpt of Ecoholic Body's guide to label decoding. What an honour!
Now, drum roll please, I'm excited to announce Toxin Toxout: Getting Harmful Chemicals Out of Our Bodies and Our World is on shelves and it, my friends, rocks – and not just because I'm in it, of course. You'll learn more about how easily everyday toxins seep into our bodies, in the most up close and personal way, as the authors, once again, turn themselves into human guinea pigs. This time they take on the often whacky world of detoxing in some pretty hilarious experiments. If you've ever eyeballed ionic footbaths or infrared saunas and wondered whether they actually pull toxins from your bodies, well, the boys dig up some answers. I sample a few of those answers in the latest Ecoholic product guide (hint: organic food and green products actually do lower your body's chemical levels!). You'll also find my Q&A with Bruce and Rick. Click here for the full story, Ranking Detox Strategies. If you pick up the book, I promise you this: you'll laugh, you'll wince, and you'll learn a hell of a lot.